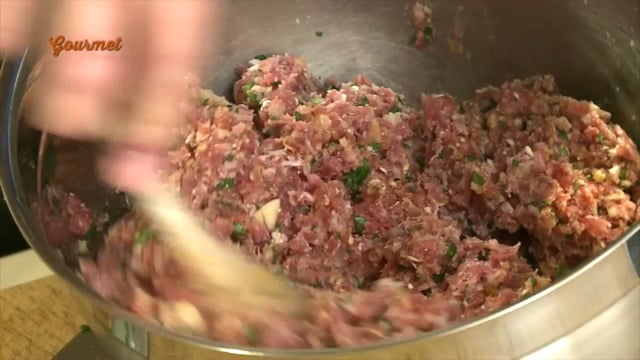 Watch Michael Diacono make healthy aubergine burgers.
Burgers in an aubergine bun
Ingredients
500g beef and pork mince
2 cloves garlic
Handful parsley, chopped
1 tsp dried thyme
100g Parmesan
Handful breadcrumbs
Handful oats
1 – 2 eggs
Salt and pepper
2 long aubergines
Flour, for dusting
Olive oil, for frying
Tomato and garlic sauce
Olive oil
2 cloves garlic
1 tbsp balsamic vinegar
1 tin tomatoes
2 tsbp sugar
Handful basil
Salt and pepper
Method
1.Preheat the oven to 200C.
2.Mix together the minced meat, garlic, parsley, thyme, Parmesan, breadcrumbs and oats and mix well.
3.Add one egg and if the mixture is still too dry add the other.
4.Season with salt and pepper and set aside.
5.Top and tail the aubergines and cut into an even number of slices.
6.Place a large tablespoon of meat mixture on one slice and top with another slice.
7.Dust the aubergine burger in flour and gently fry on each side until the aubergines become golden.
8.To make the tomato sauce, heat some olive oil and fry the garlic on low heat for a few mins.
9.Add the vinegar and the tomatoes.
10.Add the basil, sugar, salt and pepper and allow to simmer for 20 mins.
11.Transfer the aubergine burgers to a baking tray and bake for 25 mins.
12.Serve aubergine burgers with tomato sauce and some more freshly chopped parsley.
This recipe first appeared on Gourmet Today TV, aired on TVM on 29 May, 2015.