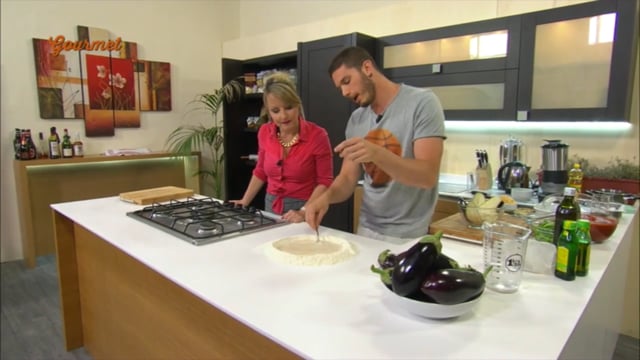 Watch Sean Gravina make a simple rosemary focaccia, a perfect homemade substitute for bread.
Rosemary focaccia
Ingredients
1 x 7g sachet of dried yeast
1kg strong bread flour, plus extra for dusting
1 tsp sea salt
Quality extra virgin olive oil
3 sprigs rosemary
Method
Whisk the yeast into 600ml of tepid water and leave for 5 minutes.
Put the flour and salt into a large bowl and create a well in the middle.
Pour in the yeasty water and use a spoon to bring in the flour until it becomes too hard to mix, then bring it together with clean, floured hands and knead for 5 minutes, or until elastic.
Finely chop the rosemary and add it to the dough, making sure it is evenly distributed.
Cover and leave in warm place for 1 hour, or until doubled in size.
Knock back the dough, then push it into a large roasting tray.
Drizzle with 4 tablespoons of extra virgin olive oil and poke it all over with your fingertips, right to the bottom.
Sprinkle with salt and pepper, then leave until doubled in size again.
While the bread is proving, preheat the oven to 180°C.
Once the focaccia has doubled in size, very gently place it in the middle of the oven.
Bake for 40 mins until golden.
Brush with a further 4 tbsp olive oil as soon as the focaccia comes out of the oven.
Serve as a side with a classic parmigiana, use as a substitute to bread in sandwiches or simply serve with nibbles before a meal.
This recipe first appeared on Gourmet Today TV, aired on TVM on 29 May, 2015.