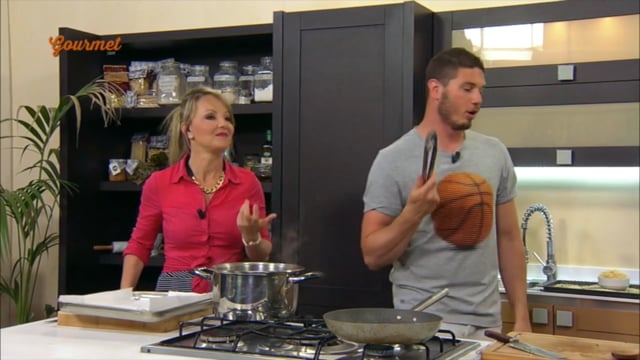 Watch Sean Gravina make a classic parmigiana with a rosemary focaccia.
Classic parmigiana with rosemary focaccia
Focaccia
1 x 7g sachet of dried yeast
1kg strong bread flour, plus extra for dusting
1 tsp sea salt
Quality extra virgin olive oil
3 sprigs rosemary
Parmigiana
8 medium aubergines
200g stale bread
200g Parmesan cheese
8 cloves of garlic
1 bunch of fresh basil (30g)
Olive oil
1 teaspoon dried oregano
300ml red wine
4 x 400 g tins of plum tomatoes
125g fresh Mozarella cheese (or burrata)
250g rocket
1 lemon
Method
Whisk the yeast into 600ml of tepid water and leave for 5 minutes.
Put the flour and salt into a large bowl and create a well in the middle.
Pour in the yeasty water and use a spoon to bring in the flour until it becomes too hard to mix, then bring it together with clean floured hands and knead for 5 minutes, or until elastic.
Finely chop the rosemary and add it to the dough, making sure it is evenly distributed.
Cover and leave in warm place for 1 hour, or until doubled in size.
Knock back the dough, then push it into a large roasting tray.
Drizzle with 4 tablespoons of extra virgin olive oil and poke it all over with your fingertips, right to the bottom.
Sprinkle with salt and pepper, then leave until doubled in size again.
While the bread is proving, preheat the oven to 180°C.
Slice the aubergines lengthways 1½ cm thick. Season generously with salt and leave to drain in a colander for 20 minutes.
Tear the bread into a food processor and whiz to fine crumbs, sprinkle over a large tray and bake for 10 mins.
Switch to the fine grater blade and whiz up the Parmesan.
Peel the garlic and finely slice with basil stalks, then fry in a large pan in medium heat with a splash of olive oil and the oregano until lightly golden.
Pour in the wine, bring to the boil and cook away, then squash in the tomatoes and add 1 tin's worth of water. Bring back to the boil, then simmer for 20 mins.
Wipe the aubergine slices with kitchen paper and fry them in a little olive oil in batches in a large frying pan on a high heat for a few minutes on each side, or until golden.
Cover the base of a roasting tray with one-third of the aubergines, top with one-third each of the tomato sauce, basil leaves, breadcrumbs and Parmesan, then tear over a ball of mozzarella.
Repeat twice, then drizzle with a little olive oil.
Once the focaccia has doubled in size, very gently place it in the middle of the oven.
Place the parmigiana at the bottom of the oven and cook both for 40 mins, or until the focaccia is lightly golden and cooked through, and the parmigiana is bubbling.
When you remove the focaccia and parmigiana from the oven, drizzle the focaccia all over with at least another 4 tablespoons of extra virgin olive oil, and leave the parmigiana to rest for 30 mins.
Serve the parmigiana in sandwiches in the focaccia, or serve the focaccia as a side.
This recipe first appeared on Gourmet Today TV, aired on TVM on 29 May, 2015.
Sponsored by Carlsberg
The Danish global premium all-malt pilsner beer is medium-bodied, dry and well-proportioned with a characteristic hop bitterness that supports its fine structure. Specially chosen hop flowers, malt from lightly roasted spring barley and Carlsberg's famous yeast, Saccharomyces Carlsbergensis, are brewed with pure water to create a quintessential premium beer. Alc. 5% Vol.