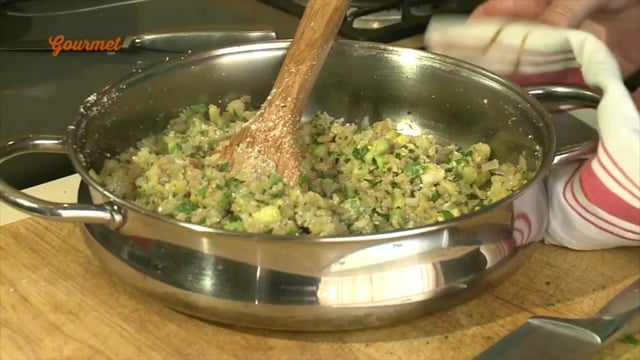 Watch Michael Diacono make marrow and cheese balls served with a mayo and nigella seed dressing
Marrow and cheese balls
Ingredients
Olive oil
½ onion, finely chopped
1 clove garlic, finely chopped
2 large marrows
Salt and pepper
Handful pine nuts
½ lemon, zest only
2 large handfuls fresh breadcrumbs
Handful mint
Handful parsley
Handful Pecorino, grated
1 whole mozzarella di buffola
1 egg
Flour for dusting
Dipping sauce
1 tbsp mayonnaise
1 tbsp yoghurt
1 tsp olive oil
Salt and pepper
1 tsp nigella seeds
Method
Pre-heat the oven to 200C.
Heat some olive oil in a pan and sauté the onion and garlic until soft.
Dice the marrows and add to the pan and season with salt and pepper.
Add the pine nuts and lemon zest and allow to cook for approx. 7 mins.
Remove from the heat and add the breadcrumbs, mint, parsley and Pecorino.
Cut the mozzarella into bite sized pieces and add to the mixture.
Add the egg and mix well.
Roll 1 tbsp of mixture into a ball and roll in the flour, placing on a baking tray when finished.
Repeat with the remaining mixture.
Top with olive oil and place in the oven for approx. 10 - 15 mins until golden.
Allow to rest for 10 mins.
In a separate bowl mix the mayonnaise, yoghurt, salt, pepper, olive oil in a bowl and top with nigella seeds.
Serve the marrow cheese balls on a bed of rocket with lemon wedges and some of the mayonnaise mixture on the side.
This recipe first appeared on Gourmet Today TV, aired on TVM on 5 June, 2015.