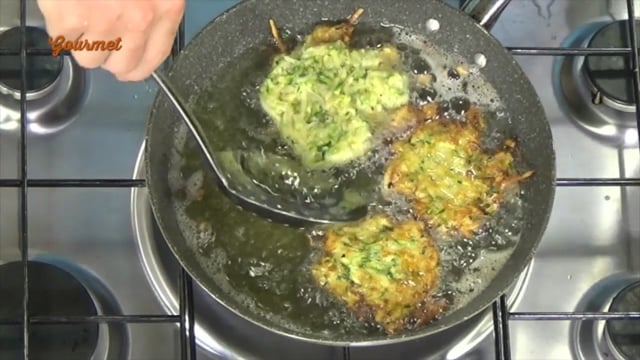 Watch Sean Gravina make zucchini fritters, a great way to get the kids to eat their veggies
Zucchini fritters with a Benna yoghurt and garlic dipping sauce
Ingredients
Zucchini fritters
2 small zucchini, ends trimmed
1 small potato, peeled
½ medium onion
2 tsp salt
2 large eggs, beaten to blend
1 garlic clove, finely grated
½ tsp ground cumin
3 tbsp parsley, finely chopped, plus more for serving
2 tbsp mint, finely chopped, plus more for serving
Freshly ground black pepper
⅓ cup all-purpose flour
½ tsp baking powder
½ cup vegetable oil
Olive oil
Benna yoghurt and garlic dipping sauce
½ cup Benna plain yogurt
2 tbsp fresh mint, finely chopped
2 tbsp lemon juice
2 tsp olive oil
1 tsp honey
1 garlic clove, finely grated
Salt and pepper
Method
Prepare the garlic, yoghurt dipping sauce by mixing the yoghurt, mint, lemon juice, oil, honey, and garlic in a small bowl.
Season with salt and pepper, cover and chill.
To prepare the fritters, grate the zucchini, potato, and onion on the large holes of a box grater.
Transfer to a mesh sieve set over a bowl and toss with 2 tsp. salt.
Let vegetables sit until they release their liquid, 30−40 minutes.
Mix eggs, garlic, cumin, 3 tbsp parsley, and 2 tbsp mint in a medium bowl and season with salt and pepper.
Gather up half the zucchini mixture in a kitchen towel; squeeze out excess liquid. Add to bowl with egg mixture and repeat with remaining zucchini mixture. Sprinkle flour and baking powder and mix gently.
Heat vegetable oil in a large skillet over medium-high.
Working in batches, spoon scoops of mixture into skillet, flattening gently with a spatula.
Cook until golden brown and crisp, about 3 minutes per side.
Transfer to a wire rack; season with salt.
Drizzle yoghurt sauce with olive oil and top with more herbs; serve alongside warm fritters.
This recipe first appeared on Gourmet Today TV, aired on TVM on 5 June, 2015.
Sponsored by Carlsberg
The Danish global premium all-malt pilsner beer is medium-bodied, dry and well-proportioned with a characteristic hop bitterness that supports its fine structure. Specially chosen hop flowers, malt from lightly roasted spring barley and Carlsberg's famous yeast, Saccharomyces Carlsbergensis, are brewed with pure water to create a quintessential premium beer. Alc. 5% Vol.