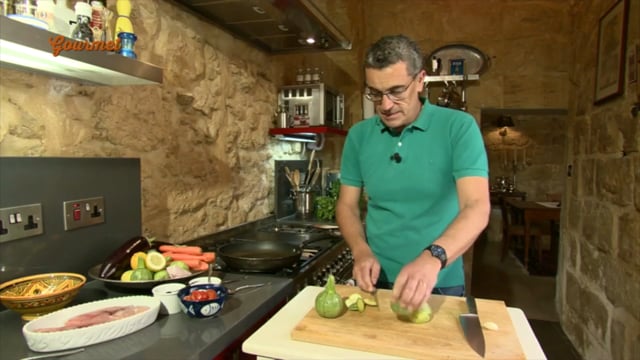 Watch Michael Diacono make a delicious meal in minutes - grilled swordfish with marrow and tomato salsa
Grilled swordfish with a marrow and tomato salsa
Ingredients
3 medium marrows
Olive oil
2 swordfish steaks
Salt and pepper
½ lemon, juice only
½ onion, finely chopped
1 clove garlic, finely chopped
1 chilli
3 large tomatoes, cut into chunks
5 cherry tomatoes, halved
2 tbsp balsamic vinegar
1 tbsp capers
2 tbsp kalamata olives
Handful basil
Handful mint
Handful parsley
Method
Cut the marrows into discs and place on a hot grill with a little olive oil. Cook for a few mins until soft but not mushy.
Season the fish steaks with salt, pepper and lemon juice and allow to marinate for a few minutes.
In a separate pan, sauté the onion, garlic and chilli until soft.
Add the tomatoes and season with salt and pepper.
Add the balsamic vinegar and the capers and olives.
Add the fresh herbs and the grilled marrows and cook for a few seconds. Remove from the heat
Grill the swordfish on a hot grill pan for a few mins on each side, taking care not to overcook the fish.
Serve the swordfish steaks topped with the marrow and tomato salsa.
This recipe first appeared on Gourmet Today TV, aired on TVM on 5 June, 2015.