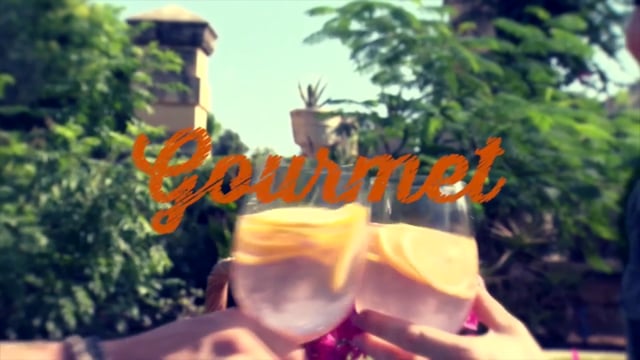 Watch Sean Gravina make a roasted pork loin stuffed with local peaches
Roasted pork loin stuffed with peaches and thyme
Ingredients
Seven-rib loin of pork
1 bunch fresh thyme
200g butter
Salt and pepper
8 fresh peaches, halved and stoned
8 medium potatoes
1 jar goose fat
Method
Pre-heat the oven to 220°C.
Score the skin of the pork in a criss-cross pattern about 1cm apart, through the fat, nearly through the meat.
With a knife, carefully part the meat away from the ribs.
Scrunch up the chopped thyme into the butter and season with salt and pepper.
Rub and distribute a little of the butter into the gap you have made between the ribs and the meat.
Peel the peaches and dice. Stuff as many peaches as will fit into the meat, on top of the butter and finish with another layer of butter.
Tie the pork with butcher's string so that the filling remains in tact.
Par-boil the potatoes, making sure they are not cooked all the way through.
Place the goose fat in a roasting tray and put in the oven to heat for approx. 5 mins.
Slice the potatoes and place in centre of the roasting tray with the hot goose fat, to form a pivot.
Slice the remaining peaches and add to the potatoes.
Season with salt and pepper and some more thyme.
Place the stuffed pork loin on top of the potatoes and peaches.
Roast in a hot oven for 50 – 70 mins until the meat is tender.
Allow the pork roast to rest for at least 10 mins before carving.
This recipe first appeared on Gourmet Today TV, aired on TVM on 12 June, 2015.