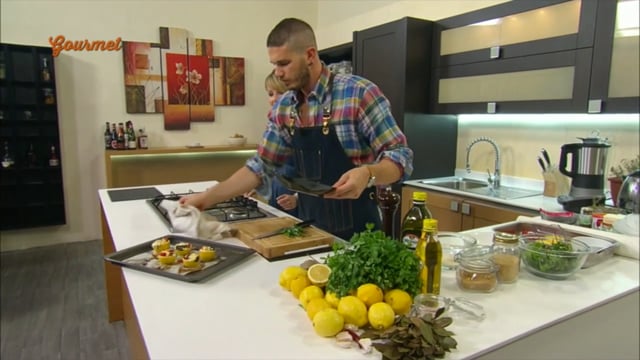 Watch Sean Gravina make an Amalfi dish of baked lemons stuffed with mozzarella
This recipe originated on the Amalfi coast in southern Italy. Although Amalfi lemons are great for this recipe, local lemons do just as good a job.
Amalfi baked lemons
Serves 4
Ingredients
2 large unwaxed lemons
4 lemon leaves (or bay leaves)
1 or 2 x 150g balls of buffalo mozzarella
4 fresh basil leaves
2 anchovy fillets
2 ripe cherry tomatoes halved
Salt and pepper
Dried chilli flakes, optional
Method
Preheat your oven to 200°C.
Remove the ends of the lemons and discard them, then cut the lemons in half crossways.
Using a small knife, remove the lemon flesh leaving you with 4 hollow circles of skin. The aim is to flavour the mozzarella and push it inside the lemon skin so that it absorbs the lovely lemon flavour when it bakes.
Place the four bay leaves on a baking tray lined with grease-proof paper and place one lemon half on top of each of the bay leaves. This will add extra flavour to the cheese.
Cut a piece of mozzarella to fit inside then lay a basil leaf, half an anchovy fillet and half a cherry tomato on top with a small pinch of salt and pepper.
Add a little dried chilli if using.
Put another slice of mozzarella on top – the lemon skin should now be filled up.
Do the same to the rest of the wheels. Place them on a baking tray, and cook in the pre-heated oven for 10 to 15 mins until golden and bubbling.
Remove from the oven and allow to cool for a few minutes, then serve with some hot grilled crostini.
This recipe first appeared on Gourmet Today TV, aired on TVM on 19 June, 2015.
Video is unavailable at this time.
Sponsored by Cisk Chill Lager (Lemon-Flavoured)
Blended with natural lemon flavourings for a refreshingly smooth-tasting, easy-to-drink lager. Ideal for beer drinkers who are looking for a new, fresh flavour experience. Alc. 4% Vol.