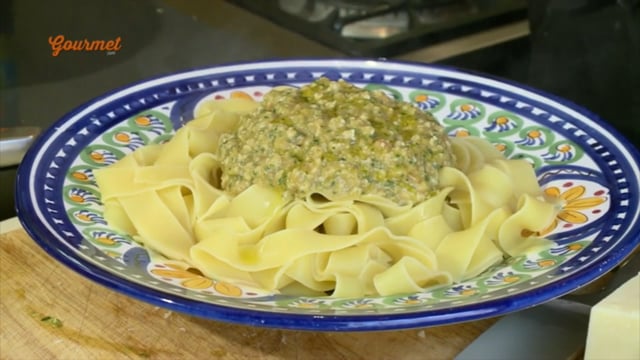 Watch Michael Diacono put a twist on the classic pesto alla Genovese with local tomatoes.
Tagliatelle pesto alla Trapanese
Ingredients
500g tagliatelle
1kg plum tomatoes
2 large handfuls basil
2 handfuls almonds
2 cloves garlic
200g Pecorino
Olive oil
Salt and pepper
Method
Boil the tagliatelle in salted water until al dente.
Pour some boiling water over the tomatoes and leave for 3 mins.
Peel the tomatoes and cut into chunks, removing the seeds.
Place the basil, almonds and garlic and in a food processor and process until smooth.
Add the olive oil, salt and pepper and whizz in the processor again.
Add the chopped tomatoes taking care not to add any extra water from the tomatoes.
Whizz in the food processor until smooth, season and set aside.
Drain the pasta and serve in a large platter topped with pesto Trapanese, some olive oil, fresh pepper and a fresh basil leaf.
This recipe first appeared on Gourmet Today TV, aired on TVM on 26 June, 2015.