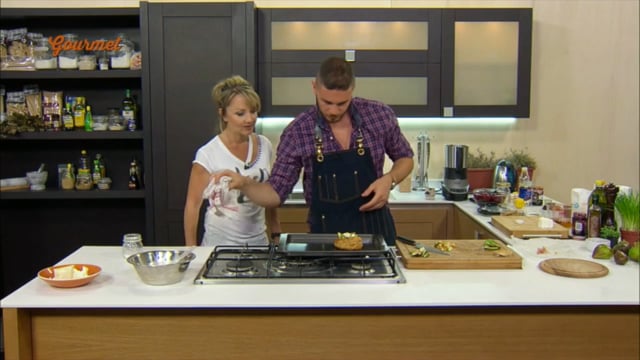 Watch Sean Gravina make a giant vol-au-vent stuffed with local figs and goat cheese.
Giant fig and goat cheese vol-au-vent
Ingredients
1 tbsp plain flour
375g all butter puff pastry
Salt and pepper
5 fresh figs
50g Parma ham
75g butter
75g caster sugar
20g goats cheese, crumbled
Few walnuts, toasted
1 tbsp micro leaf salad
1 tbsp olive oil
1 tbsp balsamic
Method
Preheat oven to 190°C.
Roll out the pastry on a lightly floured surface to the thickness of a large coin.
Cut into large circles the size of a breakfast bowl.
Using a smaller shape cut a circle into the pastry, taking care not to cut all the way through the pastry.
Season with coarse salt and freshly ground black pepper.10
Place on a baking sheet and chill in the fridge for 20 mins.
Bake for 10 mins until the pastry has risen.
When the pastry is ready, remove the circle from the top taking care not the break it.
Remove any remaining pastry from the inside and prepare to fill the vol-au-vent.
Melt the butter in a heavy based frying pan then add the sugar.
Do not over stir just leave to melt over a medium/low heat until the sugar dissolves until it looks like a light caramel. Allow to cool.
Place the fresh figs on the sides of the vol-au-vent.
Add the slices of Parma ham and crumbled goat cheese.
Spoon a few tablespoons of cooled caramel mixture and bake in the oven for 5 – 10 mins until the goat cheese starts to melt.
Sprinkle with toasted walnuts and micro herbs.
Drizzle with olive oil, balsamic vinegar and serve.
This recipe first appeared on Gourmet Today TV, aired on TVM on 10 July, 2015.