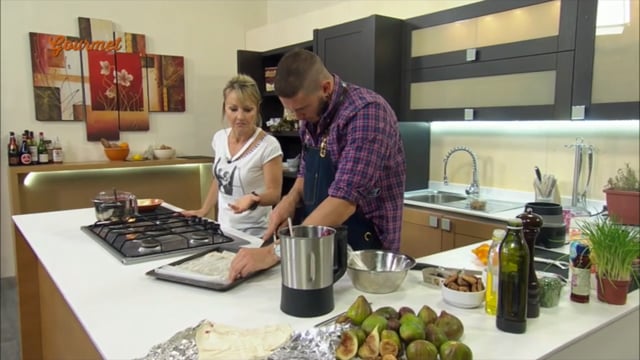 Watch Sean Gravina make a baklava stuffed with figs.
Dried fig and pistachio baklava
Ingredients
200 g butter, melted
2 X 270g packets (12 sheets) filo pastry
Honey syrup
300g sugar
100ml Greek honey
1 cinnamon stick
1 star anise
2 strips of orange zest
300ml water
Fig puree
150g dried figs
150g fig jam
150g black berries
150g black currant preserve
100g pistachios
2 tsp cinnamon
1 orange, juice only
Method
To make the filling, blend all the ingredients except the cinnamon for the fig purée until smooth.
Stir in the cinnamon.
Place all the syrup ingredients in a medium saucepan and bring to a gentle simmer.
Let simmer, stirring occasionally, for 15 mins or until the liquid has reduced by a third. Leave to cool. (The syrup must be cool when it is poured over the pastry otherwise the pastry will go soggy.)
Blitz the puree ingredients in a food processor until coarse, then tip into a bowl and stir through the cinnamon.
Preheat the oven to 180°C.
Lightly grease a 40 x 25cm shallow tin with the melted butter (using a pastry brush if you have one).
Gently unfold the filo and cover with a damp tea towel to stop it drying out and cracking.
Layer sheets of filo in the tin and brush each layer with melted butter. After 4 layers, scatter over half the purée; repeat with 4 layers of filo, then the rest of the puree.
Top with the last 4 layers of filo, then generously butter the top.
Cut into diamonds with a sharp knife – ensure the blade goes right to the bottom.
Bake on the middle shelf of the oven on a hot baking sheet for 30–35 minutes, or until golden brown and crisp, reducing the temperature to 170°C if the baklava looks as though it is browning too quickly.
Remove the baklava from the oven and spoon half the cooled syrup over the top.
Leave for 5 mins, then spoon over the remaining syrup.
Allow the baklava to cool before removing the individual pieces from the dish with a palette knife.
This recipe first appeared on Gourmet Today TV, aired on TVM on 10 July, 2015.