[WATCH] Mooring mechanism malfunction causes Italian shipyard worker's death
Italian worker, 27, dies in an accident at the Palumbo Shipyards • Antonio Palumbo insists health and safety measures are of 'utmost priority'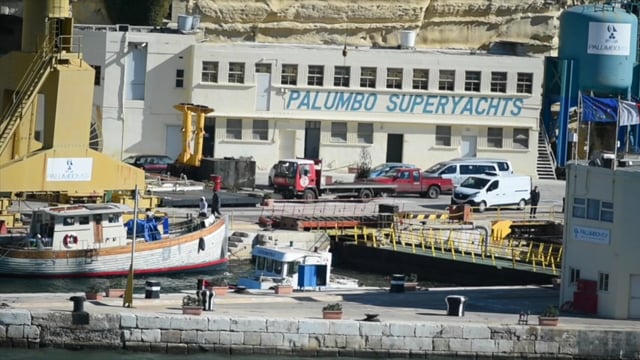 A worker has lost his life in an accident at the Palumbo Shipyards
A 27-year-old man lost his life in a work accident at the Palumbo Shipyards. The accident happened this morning at around 9.35am.
The victim is Italian and he was working at Dock 4 as the workers prepared to move a Libyan-registered vessel to another side of the shipyard. The Police confirmed that he was directly employed by the company.
A police statement said that the victim was struck in the head by part of a machine used to unwind moorings, which was being used on a passenger ship in for repairs.
Magistrate Joe Mifsud is leading the inquiry and is being assisted by forensic expert Mario Scerri, Capt Ruben Lanfranco, legal expert Richard Sladden and court expert Vincent Ciliberti.
Magistrate Mifsud had already conducted an inquiry into the last fatality at the dockyard. While still in his courtroom, Mifsud remarked that he had recommended that criminal action be taken against the directors for breaches of occupational health and safety legislation. No action was taken.
Contacted by MaltaToday, shipyard owner Antonio Palumbo said that health and safety at their place of work was of utmost priority.
"Workers' safety is our main aim and it has been our central concern all along," he said.
Palumbo is currently away from Malta but said he was trying to get back as soon as he heard of the incident. Explaining that he didn't know much about the accident, the Italian owner said was very concerned about the fatality and his thoughts were with the victim's relatives.
He added, that based on preliminary information, the incident was not related to safety issues when asked about health and safety measures at the shipyard.
The accident is the second fatal one to occur since last year, when Patrick Vella, a 36-year old diver who was working on a caisson, passed away after allegedly getting stuck in a gate valve.