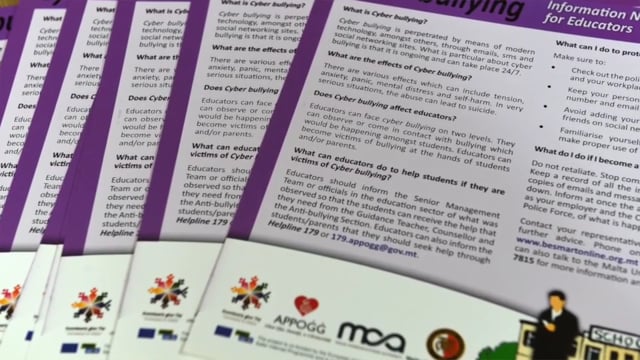 Cyberbullying campaign • Video Ray Attard
The office of the Commissioner for Children has joined forces with the Malta Union of Teachers (MUT) and launched the Be Smart Online campaign to raise awareness about cyberbullying.
All teachers will be receiving a fact sheet explaining what is cyberbullying, its effects, what teachers could do to help victims and how they can protect themselves.
Commissioner Helen D'Amato underlined the importance of reaching a balance between online and offline lives and insisted on "respecting the boundaries which exist in real life and in the virtual world."
She also announced a national conference on the positive use of internet on 21 and 22 November, which will be organised by the BeSmartOnline! Together with MUT. The conference is aimed at educating teachers and parents on internet and digital parenting.
MUT President Kevin Bonello the existing legislation needed to be updated because of the ever-changing landscape. Explaining that the union gets around two reports a month from teachers who are allegedly bullied online, Bonello said that technology blurred the boundaries and allowed people to hide behind anonymous profiles or create false identities.
Asked whether teachers have a code of ethics on how they should behave online, Bonello said "We do have a code of ethics and guidelines which recommend that teachers do not have students or their parents as their friends on social network sites. However, it must be said that social media can be used positively especially to reach out to vulnerable students."
On 18 and 19 November students will have the opportunity to attend a seminar on how an online-offline balance can be reached and how they can use internet safely.