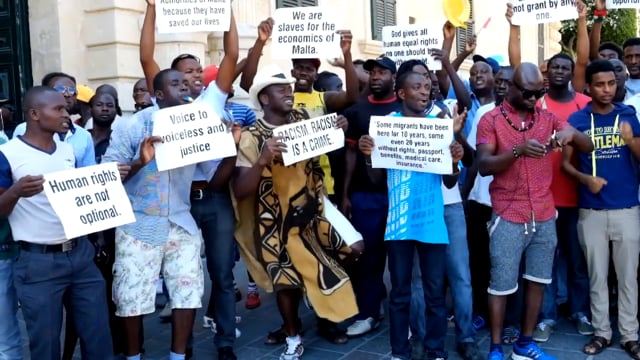 Migrants protest in Valletta against unequal treatment. Video: Chris Mangion
Around 200 African migrants took to the streets of Valletta in a demonstration against racism and unequal treatment.

"We will always respect the Maltese authorities for saving our lives, as much as we respect our parents," Malta Migrants' Association leader Bushra Fuad told the crowds at St. George's Square. "Now protect the lives you've saved by respecting our rights more fully so we can truly become a part of Maltese society."
The migrants, the vast majority of whom were male, protested against racism, delays in ID card renewals, excessive bureaucracy in processing paperwork, lack of access to education and healthcare, and people who employ migrants without a work permit.
Fuad said that migrants granted subsidiary protection are only provided with social assistance, and not social benefits such as children's allowance. He added that some undocumented migrants have professional skills and yet can only find construction, cleaning and waste collection jobs.
"Some migrants are deported 12 years after arriving in Malta, despite having a job, a car and a flat and a family by that time," Fuad said. "The uncertainty on whether you will be deported or not is very difficult to bear. Some children of migrants were born in Malta or arrived here at a very young age. Malta is all they know, and it will be very difficult for them to adapt to life in a foreign country."
"We are not here to ask politicians to change the law, and we know that we don't have a right to tell the Maltese what to do," demonstrator Omar Mohammed told the crowds outside the Parliament building. "We are simply here to offer out suggestions. Many of us were denied an education or employed without work permits, and our documentation system is very poor.
"We pay taxes and contribute to the Maltese economy, and yet we don't have the right to receive social benefits.
"We are already integrated, and yet we don't feel as though we are part of this society because of the constant racism we experience. I think we should educate ourselves to educate those people who know nothing about what integration means."
He complained about the excess bureaucracy faced by migrants seeking healthcare and the seven-month wait when applying for an ID card.
"Some Maltese tell us that the government gives us everything," he said. "Yet, some of us aren't even allowed to open a bank account and have to keep all of our money in our pockets."
At one point, somebody raised a migrant's child in the air at De Vallette Square, explaining that he was born in Malta but has not yet received any identification documents.
The protestors waved placards with slogans such as 'We are slaves for the Maltese economy', 'Black lives matter in this system', 'Stop racism, it's the enemy of freedom', and 'We deserve to be granted long-term residence: Everyone's rights are diminished when one person's rights are threatened'. Some also wove some small Maltese flags.
The march started from Floriana, proceeded through Valletta and ended in front of Europe House, where the migrants wove their yellow identification documents at the cameras in protest.
"This is unfair," the migrants shouted. "We are only allowed these documents, not a passport. We are only allowed to travel in Malta."