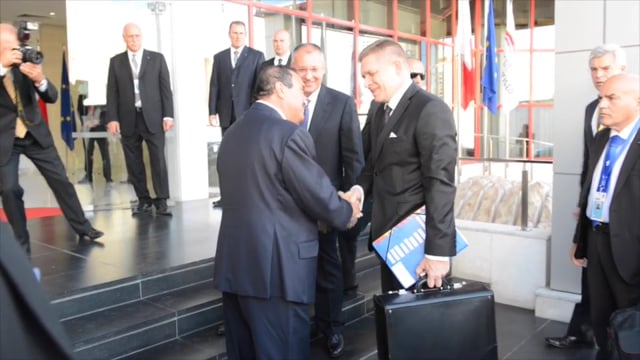 EP President Martin Schulz hopes summit will herald new era of cooperation • Video by Ray Attard
The President of the European Parliament, Martin Schulz described the Valletta Summit as a step towards a sustainable cooperation between Europe and Africa in the fight against human trafficking.
In his short comment to the media, before entering the Labour Party Headquarters in Hamrun, Schulz said that this Summit is an early recognition of the root causes of the migration crisis. "This, with respect to the rule of law and fundamental human rights," he added.
Escorted by the police and a helicopter hovering above the convoy before his entry to the Labour Party HQ in Hamrun, the EP president said he expected this summit to be a starting point for deeper and longer cooperation.
Prime Minister Joseph Muscat is convinced this summit is an important step forward, but it is not the final solution. This is the first time that two great continents met to speak honestly about this phenomenon.
Shultz and Muscat, together with socialist leaders members of the Party of European Socialists, met at the PL HQ for a preparatory meeting, called "Migration – A common approach".
Before the meeting started, the PES members paid their respects to Helmut Shmidt, former German Councillor that passed away recently.