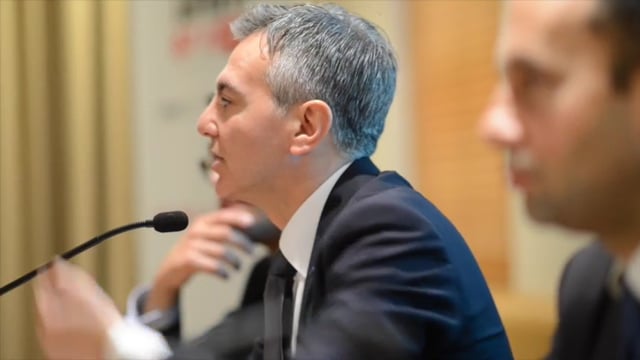 Busuttil urges forward thinking on economic issues ahead of UHM debate
Opposition leader Simon Busuttil has said that forward thinking is the key to having a healthy economy, both at present and in the coming years.
Speaking to members of the Unjoni Haddiema Maghqudin (UHM) at a debate on the Nationalist Party document "Economy for the people" earlier today, Busuttil spoke about the importance of facing challenges and anticipating issues that might put the economy at risk.
"This document seeks to look at the way the economy can improve over the coming years," he said, adding that the previous administration had weathered the storm during one of the most globally turbulent economic recessions of the last 100 years.
He added that the document questioned what kind of economy the country is enjoying now that the situation had improved on an international scale, and how to face any possible developments in the sector.
He added that the document presented some 145 proposals all under one theme, which also stresses the need to translate the current positive economic trends into benefits for all of society.
"It is not enough to have a functioning economy – it should benefit everyone," he added.

Busuttil added that the average pay had not increased since 2012, and that the document pushes forward the idea of distribution of wealth amongst the people;
"The benefits and improvements of the economy need to be felt by the people, not just by a select few," he said.
He took the example of fuel prices, stressing that at a time when international oil prices had dropped to $30 per barrel, prices are still the same as when it cost $100 per barrel.
In his introductory comments to the meeting, Secretary General Josef Vella said that the document was effective in its proposal of giving more tangible effects to the people and stressed that the public deserved to feel the improvements in the sector.
Busuttil was flanked by PN services spokesperson Kristy Debono, tourism spokesperson Antoine Borg and shadow economy minister Claudio Grech, who later on gave a presentation to explain the key proposals in the document behind closed doors.
The PN's document touches on a vast number of sectors, ranging from economy and infrastructure, transport and Gozo, with 20 priorities and 145 recommendations or policy drivers for the Opposition if elected to power in the upcoming general election.
One of the measures presented in the document relates to a tax incentive on businesses' carbon footprints, which will be used to determine "the intensity of the fiscal benefit to be granted" to on the environment of businesses. It proposes a new taxation for businesses, based on the gross value added, built-up space and number of employees.

It further mentions the promotion of policies to support new projects adopting low-carbon technologies, and one of its top priorities sets out the plan to develop an underground master plan, which aims to define the planning parameters of underground infrastructure and basement spaces.