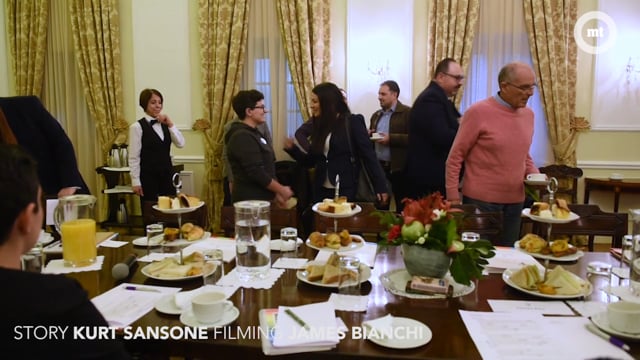 Children present manifesto to MEP candidates
In a very passionate appeal to end gender inequality, a 17-year-old maths student has called out sexism that is often disguised as "a joke".
Recounting her experience as a pure maths and physics student where she is one of a handful of women, Laura said she constantly had to prove her capabilities in class.
"Being a woman is not a joke… I hate being told by male students that the only thing I can do are sandwiches in the kitchen; I can do algebra, I can do physics, I can do anything a man can do," she told MEP candidates.
Laura was one of 11 young people aged between 10 and 17, who presented their list of aspirations to MEP candidates at a roundtable conference organised by the President's Foundation for the Wellbeing of Society on Friday.
Gender equality was one of the points raised by the children.
Identifying herself as a feminist, Laura insisted this did not mean she hated men. "Feminism is misunderstood. Feminism should be seen as a fight for equality. At school I am scared to call myself a feminist because it means I hate all men. But I love my boyfriend, I love my father, I love my grandfather… feminism is about equality," she insisted.
Laura asked the election candidates to work for an "immediate end" to the gender pay gap. "Let us end this; it should be stopped," she said.
Her appeal was picked up by Labour MEP Miriam Dalli, who shared her own experience over the past year leading discussions on new European legislation to curb CO2 emissions from cars.
"Even in the European Parliament the situation is not plane sailing. One of the comments I often received was 'what does she understand about cars and engines'," she said, asking Laura to keep pushing and forging alliances with men who were feminist.
Alternattiva Demokratika candidate Arnold Cassola said the comments Laura received were based on stereotypes that dictated what men and women should do. "I don't know how to use a screwdriver, little do I know about maths… these are stereotypes that try and pigeonhole men and women," he said.
It was a sentiment shared by PL candidate Josef Caruana, who insisted that men had to be feminists as well to end the gender stereotyping.
Nationalist Party candidate Peter Agius urged the children "to dare" because more still had to be done to achieve gender parity in the Maltese parliament.
The list of issues put forward ranged from measures to safeguard the environment to improved sexual health awareness and politics.
The children called for more independent thinking and an effective response to bullying, including online harassment.
PN candidate Michael Briguglio backed the call for independent thinking. "The most important thing is being honest with yourself… we are fed up with the politics of enemies, we should be adversaries clashing ideas," he said.
AD's Mina Tolu agreed that more had to be done to raise awareness about sexual health and diversity.
PN MEP Francis Zammit Dimech said talks were underway in the European Parliament to address the issue of exposure of children to violence and discrimination on television and social media.
The MEP candidates who participated in the roundtable were: Peter Agius (PN), Michael Briguglio (PN), Carmel Cacopardo (AD), Josef Caruana (PL), Noel Cassar (PL), Arnold Cassola (AD), Miriam Dalli (PL), Robert Micallef (PL), Mina Tolu (AD), Francis Zammit Dimech (PN), James Grech (PL).
A second round of talks will be held in March, during which the MEP candidates will be expected to give the children detailed feedback on their proposals.
A children's manifesto
The key issues children and young people raised with MEP candidates during a roundtable discussion
Politics
Introduce civic education to inform people about voting critically
Work to increase independent voting and reduce political partisanship
Keep children informed as to what is happening in Malta, through an accessible media news update
Health
Healthcare should be affordable and accessible to everyone
More support for people with poor mental health within the community
More information and awareness about sexual health, including support for preventing and addressing teenage pregnancies and STDs
Environment
Introduce more incentives for people to clean up the environment and stop littering
Reduce plastic use, introduce biodegradables, and enforce a ban on single use plastics
Encourage the use of renewable energy and push towards a greener economy
Reduce and not encourage car use
Facilitate other forms of transport and reward people for using them
Protect trees
Urban planning and development
Make better use of abandoned houses before developing and constructing more buildings
It should be cheaper to renovate an old house than buy a new one
Public spaces should be protected, safe and accessible
Education
Education should look at the individual student needs
Children should be taught in more creative ways
Teaching should be a vocation, where teachers are passionate, inspiring, valued, and recognised for their hard work
Subjects taught at school should be closely tied with real life situations
Out-of-Home care
It takes too long for decisions to be taken on children's out of home care
Children should have a say in what happens to them, and be listened to
There should be more research on what children really want, and what options are favoured by children who require out-of-home care
Encourage more people to foster and adopt children
Reduce the stigma surrounding children in out-of-home care
Children in out-of-home care can benefit from the support of a mentor
Bullying and violence
Bullying needs to be tackled quickly, and not ignored by parents and teachers
Teachers and parents should be given support on how to identify bullying and respond effectively
Someone must stop bullying from happening on social media
Care and support must be given to both the victims, and the bullies
Schools need to emphasise positive values and promote peace building at a very early age
There should be efforts to stop discrimination because this leads to bullying
Immigration
Act first and then discuss in situations that require urgent action like the recent case of people left at sea for weeks
Asylum seekers should be met with a friendly face, not the police
Positive voices of migration should be shared
We expect MEPs to stand up against the unfair negative portrayal of immigrants
We should prevent immigrants from being exploited
Immigrant children should have equal and meaningful access to education
Children should have their right to freedom of religion respected
More resources to support migrants and respond to their trauma
Poverty and social exclusion
Lack of inclusion affects the elderly, who can suffer from loneliness
Poverty leads to social exclusion, and must be tackled
Gender equality
Immediate action should be taken to close the gender pay gap completely
Feminism should be seen as a fight for gender equality
Stop discrimination between men and women