[WATCH] Malmström: 'We'll never have a Mare Nostrum unless member states decide to finance it'
I met European Commissioner Cecilia Malmström in Brussels while being hosted for a discussion migration: her answers show that the great effort for EU policy-making still lies with the decisions that national governments take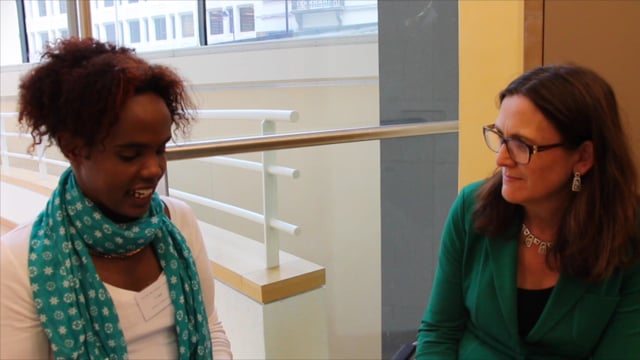 European Commissioner Cecilia Malmström interviewed by MaltaToday blogger Farah Abdi
There are some stark answers to the problem and challenge of migration to the EU in my short interview with the former justice and home affairs commissioner Cecilia Malmtsröm.
When I ask what the EU plans to do to save lives in the Mediterranean, after the Italian operation Mare Nostrum ended on 1 November, The European Commissioner quickly points out that the Frontex-led Operation Triton that will take over will be more limited.
"We can't have an operation like Mare Nostrum when member states continue to shrink their financial contributions to the EU. We simply don't have the finances, machinery and manpower to match an operation like Mare Nostrum, because we depend on member states for their contribution and we cannot force them to do so if they don't want to."
Countries on the exterior border of Europe like Malta, Italy and Greece always call on other member states to help when it comes to burden sharing. So is it possible to effect changes when it comes to policy that enforces a better sharing of the burden?
"It's been clear for a while now that the Dublin regulation that doesn't allow for even distribution of migrants is not working, but we cannot change a law when 25 of the 28 member states are against any changes.
"We don't have political support and in that case our hands are tied. I have said time and again that eight EU countries cannot continue to bear the migration burden alone while the other 20 are involved in a limited way. But without policy changes, the EU cannot do a lot."
On the rise of the far-right, Malmström says that while the European social fabric was built on tolerance and that she would love to see the values of human rights, respect and dignity take the upper hand, she also sees strong opposition against the far-right, citing the recent elections in Sweden as an example. "This is a sign that the forces of tolerance are still in place."
Malmström will now be taking over trader in her new five-year term in Brussels. "I will still be very much involved in migration because it's an issue that is close to my heart.
"We have done a lot in the past five years to bring about the necessary changes like the report on unaccompanied minors that was adopted by parliament… I hope to see more development in the field and I wish my successor the best."