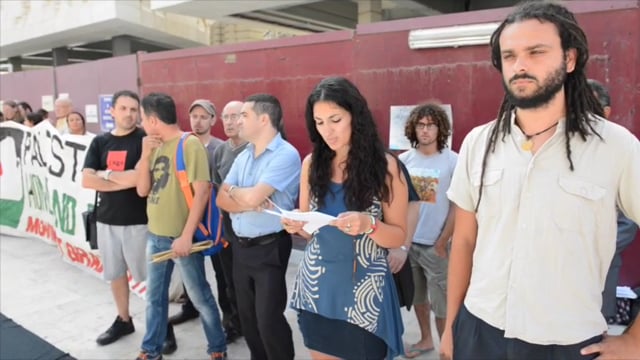 Palestine Solidarity Network in Valletta • Video by Ray Attard
The Palestine Solidarity Network today described Malta's support for Israel's bid to sit on the United Nations Security Council in 2018 as "shocking."
Spokesperson Andre Callus said it was "ironic" that Malta, which historically championed the Palestinian cause, is now backing Israel to sit on the security council while ignoring over 70 UN resolutions.
Such a decision, he said, "legitimises the Israeli oppression of Palestinians and sends the wrong message to a state that has repeatedly and shamelessly ignored UN resolutions."
Last week, MaltaToday revealed that a recent visit by a delegation of Israeli MPs and a vague indication of Maltese support for Israel's bid to win a seat for the first time ever on the United Nations Security Council has exposed tensions between diverging camps within the government.
Foreign affairs minister George Vella, a long-time champion of the Palestinian cause, is thought to be opposed to any move to support Israel's bid.
However, it seems as though Prime Minister Joseph Muscat and other members of the government have no qualms in supporting that bid, especially after recent developments in Malta's relationship with Israel, which culminated in Muscat's visit to Israel late last year.
Addressing a press conference in Valletta, Callus said that the recent unrest in the Middle East "is not about a conflict between two parties, but about the perennial Israeli oppression of Palestinians."
This week, violence escalated after Israel bombed the Gaza Strip in retaliation to the murder of three Israeli settlers. Moreover, East Jerusalem witnessed violent clashes after a Palestinian teen was abducted and murdered. Moreover, some 600 Palestinians were arrested and detained without charges and six Palestinians were killed by Israeli forces.
Describing the situation as "tragic," Callus likened the situation to apartheid South Africa.
Noting that as a result of this oppression there are millions of Palestinian refuges scattered around the world, he said "the situation in Palestine is similar to the oppression of blacks in apartheid South Africa, only on a bigger scale. We believe that the international community should boycott Israel just as it did with South Africa."
Calling for sanctions against companies involved in the expansion of illegal Israeli settlements, Callus said that Israel has "colonized Palestanian land since 1948."
Another spokesperson from the Palestine Solidarity Network, Samuela Galea, pointed out that although recent events were given prominence in the media, "Palestinians suffer attacks on a daily basis."
She noted that between 2000 and 2013, the Israeli forces killed 1,518 Palestinian children, however "we heard very little political statements condemning such killings."
Also present for the protest was AD's secretary general Ralph Cassar who said the spiral of violence in the Middle East was an obvious consequence of the Israeli military occupation of Palestine.
"The killing of three Israeli students and the consequent revenge through the killing of a Palestinian youth is a disgrace. This, however, can never justify Israel's policy of collective punishment. The Israeli occupation, the repeated use of collective punishment, the daily humiliation and murder of Palestinians and the land theft by Israeli settlers will only continue to make a long lasting solution to this conflict improbable," Cassar said.
"The deep sense of injustice and frustration felt by the people of Palestine because of the harsh realities of the occupation of Palestine by Israel needs resolution and the attention of the international community, which has turned its back on the plight of Palestinians for too long."