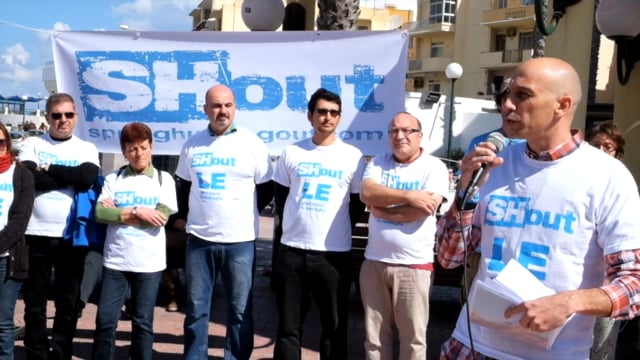 Shout calls for dialogue not intimidation
An abrogative referendum to abolish spring hunting in Malta is not a war but a democratic tool to which Maltese citizens had a right, Spring Hunting Out (SHout) spokesperson Mark Sultana said this morning.
Addressing a news conference in Bugibba, Sultana explained that while FKNK president Joe Perici Calascione referred to the referendum as a 'war', the truth is that the hunting lobby does not have any strong and truthful arguments to defend spring hunting.
Unveiling the Yes campaign on Saturday, hunters' federation president Joe Perici Calascione said that the referendum is "a war and not just a battle." But amid the hunting lobby reiterating that the referendum will not open the door to restrictions on other hobbies – an argument which was shot down by former judge Giovanni Bonello – Perici Calascione and the hunting lobby have failed to respond to a public debate on the "real facts."
Shooting down Perici Calascione's comments, SHout spokesman Mark Sultana insisted that the referendum is not a war, but conversely, is "a democratic exercise where people are being asked to vote yes or no."
"The people of Malta are about to make an important decision about a national issue. This democratic process, sanctioned by the Constitutional Court, requires serious and mature debate. It needs to be a debate about the facts," Sultana said.
Sultana also called on the hunters to stop hiding behind their "masks", and should instead respond to requests for participating and taking part in debates. Echoing No camp spokesman Saviour Balzan, Sultana insisted that while the yes-campaign was resorting to scaremongering, the NO camp had concrete facts and arguments.
"This weekend we witnessed the hypocritical and cynical game of the hunters in trying to hide behind a shallow marketing exercise which tries to make people believe that they are not who they really are," he said.
He also stated that people have not forgotten the hunting lobby's bullying tactics, their protests where they beat up journalists, their attacks on birdwatchers and the arson attacks on people's cars. In September 2014, hunters reacted to a temporary suspension of the autumn hunting season by staging a protest in Valletta on the occasion of Malta's Independence Day celebrations. The protest - which also saw hunters shouting profanities and assaulting a journalist - was then followed by a group of hunters attacking BirdLife birdwatchers at Buskett.
"This is the reality of spring hunting in Malta. It is a face that they are now afraid to show to the people because they know it will not win them any votes in the referendum," he said.