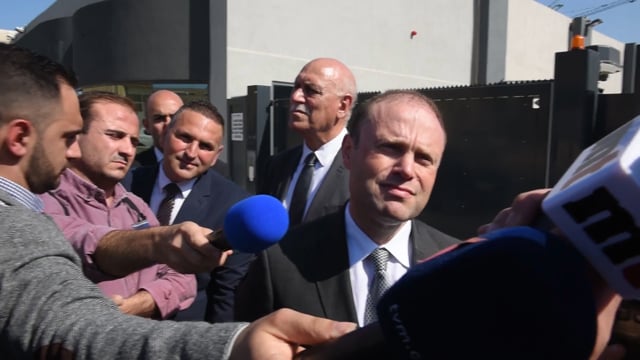 Joseph Muscat on The Daphne Project revelations
Joseph Muscat has stuck to his script that he will not comment on information coming from The Daphne Project because this was subject to various ongoing magisterial inquiries.
The Prime Minister insisted he did not want to "prejudice" any of the inquiries when asked about his chief of staff Keith Schembri's admission last week that 17 Black and Macbridge, based in Dubai, were included in a draft business plan for his companies.
Muscat was speaking to journalists just after visiting currency firm De La Rue. This was his first confrontation with journalists since last week's revelations.
The Prime Minister insisted on shifting his reply to the Egrant case, adding that a year after the allegation was made, nobody had come forward with a shred of evidence to substantiate the claim.
Pressed by journalists on why he insisted on discussing Egrant over 17 Black, Muscat insisted that while journalists had the right to ask whatever they wanted he had the right to answer that "this time last year the country was in turmoil because of an allegation that the Prime Minister or his wife received a million Euro".
"That allegation has today disappeared and it is my duty to ask and see that if there is any evidence, with all these journalists investigating it should come out," said Muscat.
Assassinated journalist Daphne Caruana Galizia had reported that the Prime Minister's wife, Michelle, was the ultimate beneficiary owner of Egrant, the third Panama company that was set up alongside those of Schembri and minister Konrad Mizzi.
The Muscats have strongly rejected the claim, describing it as the "biggest political lie to ever be told".
The Daphne Project
The Daphne Project last week uncovered an email sent by Schembri's financial advisor at Nexia BT to his counterpart at Panamanian firm Mossack Fonseca with details of the companies in Panama that Schembri and Mizzi had set up concurrently.
In this email, Nexia BT identified 17 Black and Macbridge as "target clients" of Panamanian firms Tillgate and Hearnville, the companies owned by Schembri and Mizzi respectively.
In a statement reacting to the revelations, Schembri confirmed, for the first time, that 17 Black and Macbridge were included in a draft business plan for his company. An investigation by the Financial Intelligence Analysis Unit found that 17 Black received two deposits, one from the Malta agent of the liquefied natural gas floating storage unit at Delimara.
Schembri has so far not said who owns 17 Black and Macbridge or the nature of the business relationship his companies planned to have with them.