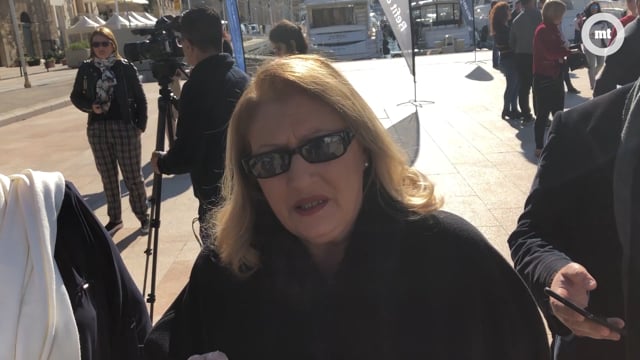 President Marie-Louise Coleiro Preca has insisted that Europe needs to do more on migration insisting that she could not understand how human rights have become a "pick and choose issue".
Coleiro Preca was responding to questions by MaltaToday on the NGO rescue vessel Sea-Watch 3, which is currently stranded in the Mediterranean and awaiting clearance to disembark 32 rescued migrants at a safe port. With the migrants now in their seventh day at sea, Coleiro Preca was asked whether Malta should, in the same spirit of solidarity shown during the L-Istrina fundraising marathon, accept to take the migrants.
"I don't think that we can consider matters like this in isolation because when we do so we don't present them in a just way," she said.
Coleiro Preca added however that she was saddened by the fact that human beings were being left stranded at sea.
"I am not happy at all that we are leaving humans like us, like me and you, like the rest of the people that live in this country, out at sea, without an idea of what will happen to them."
The fact that a number of children were among those rescued made the situation even worse, she said, insisting that Europe needed to do more to ensure that human rights are upheld.
"I think Europe needs to pull up its socks and understand that it was a promoter of human rights for about 70 years…I can't understand why, all of a sudden, human rights have become a pick and choose issue."
She stressed that it was not only Europeans that had human rights.
"I think that all of Europe needs to take a step back and consider what is happening, and when I say all of Europe that includes Malta."
READ MORE: NGOs call on Malta not to look the other way and to accept stranded migrants
Sailing around the world for female empowerment
The President was attending a press conference organized before the departure of the Maiden, a sailing boat manned by an all-female crew called the Maiden Factor.
The boat's skipper, Nikki Henderson, explained that crew was sailing around the world to promote education for young girls and the empowerment of women across the globe. She said it had been a pleasure to stop in Malta and was looking forward to returning in 2020.
Coleiro Preca said it was fitting that the Maiden's voyage fell on the 70-year anniversary since the signing of the Universal Declaration of Human Rights.
She said that despite the declaration stating that all humans were born free and equal, this was unfortunately not the case. She said that unfortunately, the world had failed in ensuring these rights since the signing of the declaration.
She noted that while Malta was on paper a country which with gender equality but said that, in practice, this was not always the case.
Coleiro Preca acknowledged that there was the political will to strive for more female representation, adding that initiatives, like the Maiden's, helped to urge leaders to do more in this regard.