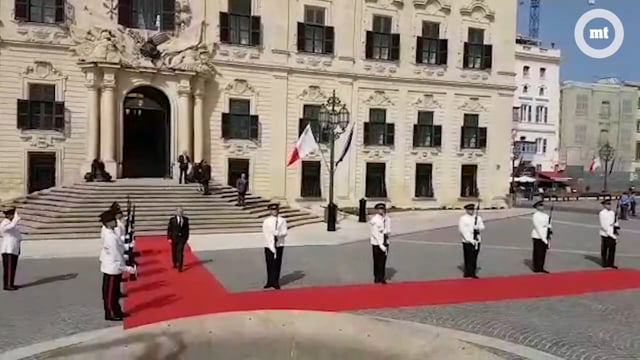 The leaders of the seven Mediterranean countries which met in Malta in the Southern EU Summit on Friday have agreed to focus on climate change and migration in the next European Council meeting.
Following a roundtable meeting, the leaders of Cyprus, France, Greece, Italy, Portugal and Spain, together with Malta's Prime Minister Joseph Muscat, addressed the local and international press gathered outside Castille.
Muscat said that the seven countries were in agreement that there should be a focus on climate change, plastic pollution and the transformation to e-car mobility in the European Council meeting due to be held on 20 and 21 June.
The Prime Minister said the leaders were also in agreements to focus on migration on a European level, which he said couldn't be de-coupled from the issue of reforms to Schengen and freedom of movement.
When it came to the EU's African policies, these should always take into account migration, Muscat said.
He added that the leaders had signalled "unwavering support" for Cyprus, in the wake of recent escalations in tension with Turkey.
Earlier
The leaders of six Mediterranean countries are in Malta to join Prime Minister Joseph Muscat for the sixth Southern EU Countries Summit.
The summit, which is being hosted by Muscat, is bringing together the leaders of Cyprus, France, Greece, Italy, Portugal and Spain.
First to arrive was French President Emmanuel Macron, who was greeted by Muscat in front of the Auberge de Castille.
The two subsequently proceeded to a private bi-lateral meeting. According to a government statement, European issues, migration, and the situation in Libya dominated bilateral talks between Muscat and Macron.
Muscat referred to Libya as a very important neighbour and said that Malta was very much concerned about the Libyan situation. Macron on his part said that the countries have common issues to discuss and especially migration.
Leaders from the remaining five countries arrived in Malta around 5pm. They then joined Macron and Muscat for a roundtable meeting which kicked off at 5.30pm.
A press conference in Castille Square is scheduled for 7.10pm.
Known as the EUMed7, the seven EU countries formed the alliance in Brussels on 17 December 2013. The alliance aims to address issues of common interest in the Mediterranean region.
This is the sixth summit of the group, and the first to be hosted in Malta.
The first was held in Athens in September 2016, and was followed by others in Lisbon, Madrid and Rome, with the last held in Nicosia earlier this year.
Discussions in the last summit focused on major EU challenges, from climate change to migration and the Multi-annual Financial Framework.