[WATCH] Developers association calls for action on derelict private property
The Malta Developers Association, in a meeting with PM Joseph Muscat, also called for a reduction in bureaucracy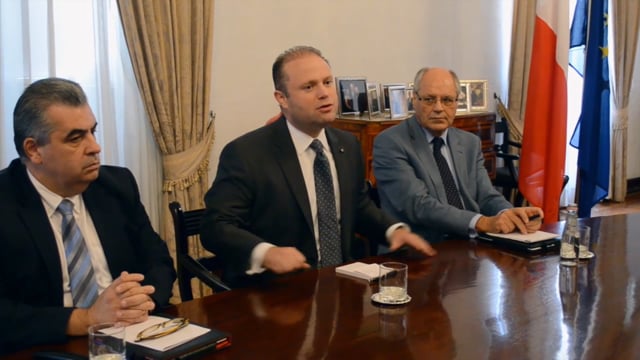 Malta Developers Association, in a meeting with PM Joseph Muscat
The Malta Developers Association (MDA) has proposed addressing abandoned and derelict buildings in its proposals for the 2016 budget, president Sandro Chetcuti said.
Speaking at a meeting with prime minister Joseph Muscat, Chetcuti outlined some of the association's main proposals and said that the association, which was celebrating its fifth anniversary this year, had seen many new members in the past year including the Federation of Estate Agents.
"Among our other proposals, we also highly recommend a reduction in bureaucratic processes, as this has led to the failure of many systems."
Muscat said that he agreed that the situation of abandoned buildings needed to be addressed immediately, as the issue would also have a positive impact on the country's visual impact and reduce the pressure on setting projects on the environment and ODZ areas.
"Many of these places are subject to extensive and lengthy judiciary processes," Muscat said, adding that the next budget would aim to begin a consultation into possible action to address the situation without benefitting those who had allowed properties to fall into disrepair.
Chetcuti also added that the MDA was not under any pressure to use ODZ land and that it hoped the new budget could also address current anomalies and prevent any future ones.
"Some fine-tuning of ODZ laws will obliterate any further controversial projects in these designated areas," Chetcuti added.
"The construction industry is one of the most vital economic pushes in the country," he said, adding that the next step was understanding what kind of development was necessary for the future.
"All development should be sustainable and high quality," he said noting the positive suggestions made by the government.
Chetcuti said that the proposals made by the MDA sought to keep up the positive sentiment towards the construction industry, while at the same time to learn from the mistakes of the past, particularly in terms of environment protection.
"Malta is too small to afford any more mistakes that can negatively impact the environment," Chetcuti said, adding that the association was willing to work with any government in order to safeguard the interests of the taxpayers.
He added that the MDA had also made suggestions to impose a final withholding tax on commercially rented buildings among others.
Muscat said that the upcoming budget aimed to keep economic impetus and growth at steady levels for the future. He added that the meeting was part of the preparations for the 2016 budget, which was being organized earlier than usual due to stringent, new EU regulations and deadlines.
"We aim to make this budget as effective and revolutionary as any of the others we have had so far, and we want to continue solving issues, regardless of how well the economy is going at the moment," Muscat said, stressing that the government did not have an electoral outlook towards budgets.