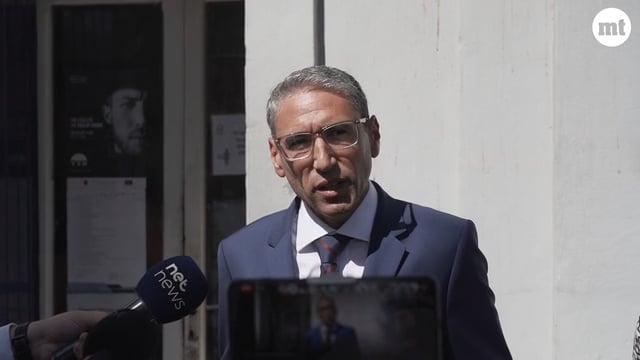 Repubblika president Robert Aquilina was called in for questioning at the Ħamrun police station on Tuesday following a protest the NGO conducted last week.
Last Friday, the rule-of-law NGO accused the government of censorship, demanding that it be given fair representation on the national broadcaster.
Standing on the steps in front of PBS' main door, Aquilina lamented that in the past two years, Republic was never invited to any PBS program.
Behind him were three Repubblika volunteers holding a banner saying "ċensura" (censorship) in white letters on a black background.
A few minutes into Aquilina's speech, a security guard came out of the premises to close the door.
Only a few seconds later, the guard once again came out, this time to tell Repubblika to leave the spot.
Aquilina refused and ignoring the guard, continued with his speech.
Police went to TVM a few minutes after the press conference, but Aquilina had already left.
On Tuesday afternoon, Aquilina was summoned by the police to be questioned about the incident.
However, according to him, the police failed to tell him whether they would be charging him and what the complaint by TVM was about.
Speaking to journalists afterwards, Aquilina said he considers the report filed by PBS and the decision of the police force to summon him as an act of intimidation.
"This is a threat to my fundamental rights of expression and association. That is what I told them," Aquilina added.
"This was an attempt to create a chilling effect on freedom of expression, which is essential for a democracy to function," Aquilina's lawyer, Therese Comodini Cachia, said to journalists.
In the police station, Aquilina insisted that he would give his version of events upon the immediate presentation of a police report.
In a matter of minutes, the police handed him the police report, containing only his version of events, with the complaint redacted.
It was at this point that Robert Aquilina left the police station, exercising his right to remain silent.
Repubblika call for resignation of PBS chairman Mark Sammut
Following his interrogation, Robert Aquilina called for the resignation of PBS chairman Mark Sammut.
Aquilina insisted that not only was PBS censoring the group, but now its chairman has been unmasked as "one of the accomplices in the latest scandal."
"After the revelations made by the Times on Sunday, Police Commissioner Angelo Gafà should have summoned PBS Chairman Mark Sammut for questioning regarding his role in the driving license scandal. Instead Gafà called me on a report filed by TVM about a press conference," Aquilina said.
Previously a Transport Malta official, Mark Sammut sent several text messages to TM CEO Clint Mansueto over a three-year period, as reported by the Times of Malta.
The Times reported on Sunday that Sammut, sometimes in an aggressive tone, "strong-armed" Mansueto to get his way.
Mansueto flagged several candidates, the Times said, who were waiting for a new test date. In one instance, Sammut practically forced Mansueto to provide a new date within 15 minutes.
"This is straight out bullying," Aquilina claimed, "and Repubblika won't stand for it."