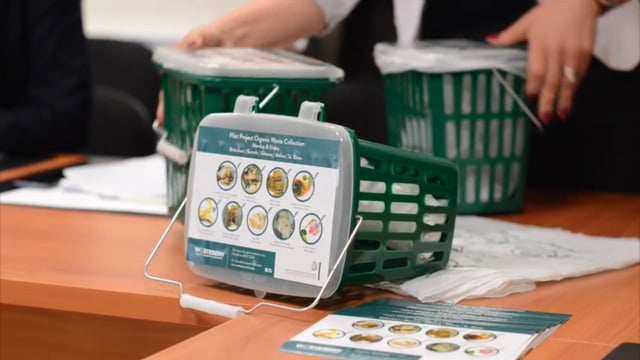 Organic waste collection project to launch this month • Video by Ray Attard
A pilot project, which would see the collection of organic waste from households in five locations, will begin at the end of the month.
Wasteserv strategy officer Clyde Falzon said that the organic waste pilot project, which had been in the making for a number of months, would begin Friday 30 October.
Falzon said that Wasteserv were in charge of the project, which would see the cooperation of MEPA, Greenpak and Green MT, as well as the various local councils in question.
Falzon said that the project would target five localities - Mdina, Birkirkara, Ta' Xbiex, Hal Ghaxaq and Bormla - and that the white bags would be collected on Monday and Friday. The company, he said, hoped to extend the project to more localities by January.
He explained that the project presented an extra bag for biodegradable waste, with the aim of dropping biodegradable waste to 35% in landfills by 2020.
He added that the waste would ultimately be used to produce energy and heat.
He further added that according to a study into household waste in 2012, some 52% of contents in the black garbage bags consisted of food remains, which highlighted the need to introduce such waste separation and treatment techniques.

Falzon explained that some of the items that could be placed in the bag included cooked or raw foods, bread and pasta, tea bags and ground coffee as well as egg shells among others.

Falzon said that the kit included bins and a six-month supply of compostable bags. Research had concluded that the aeriated bins had ensured minimal unpleasant odours.
Chief Strategy officer Suzanne Cassar Dimech said that according to door-to-door visits held in the localities to explain the project, most of the residents were eager to participate, butt hat a few of them didn't even follow the traditional recyclable waste separation methods.
"In this way, this new campaign will help to raise more awareness among the public," she said.
She further added that some of the main concerns expressed involved the frequency of collections and the size of bins, among others.
Cassar Dimech explained that the 7l bins had been chosen in accordance with other EU countries, to accommodate people who might live in small apartments and therefore not have storage space for the bins.
"Furthermore, the small size of the bins, might encourage people to re think the amount of foods they buy and dispose of," she added.