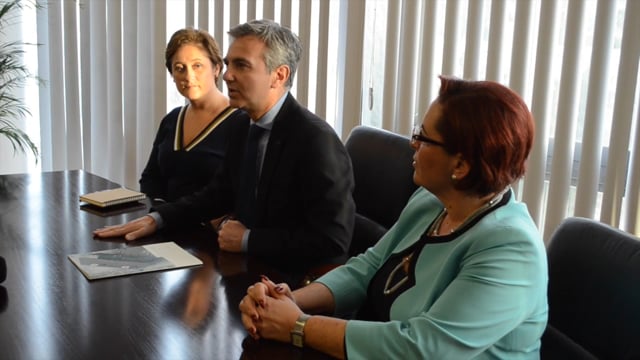 Busuttil says that PN was 'kept in the dark' over health sector
The Opposition "is being kept in the dark" about various developments in the health sector, PN leader Simon Busuttil told the Medical Association of Malta.
Busuttil received the MAM at his offices this afternoon, for a meeting that continued behind closed doors. In his opening comments, Busuttil made particular reference to the privatisation of the Gozo General Hospital and the Barts Medical School.
Barts Medical School will be establishing their first overseas campus in Gozo while a €200 million investment by the private sector is expected to transform the Gozo General Hospital (GGH) and St Luke's Hospital in Guardamangia into medical hubs.
"These decisions will effect all future governments so we feel we should be consulted alongside the stakeholders," Busuttil said.
Speaking about the privatisation of the Gozo General Hospital, Busuttil said the issue had raised some concerns particularly because Gozo has only one medical facility.
"This ultimately means that the people will no longer have the option of a public hospital," he argued.
On the Barts campus, Busuttil expressed concern about how this would affect Maltese students at the University of Malta.
In reply, MAM president Gordon Caruana Dingli said that the association was in discussion with the government over these concerns.
"Our discussions centered around the safeguarding and protection of standards for patients," Caruana Dingli said.
Discussing the issue of the new medical school, Caruana Dingli said that the aim was to keep standards of teaching at the University of Malta at their current levels, while offering new opportunities and competition.
"Our aim is to always have an excellent health sector," Caruana Dingli said.
Caruana Dingli added that the MAM would also go beyond health services and focus its efforts on the impact of social issues such as education and lifestyle choices on health.
Commenting on this subject, Busuttil said that the PN was expecting a bill on healthy living to be accepted soon. Busuttil added that the bill, focusing particularly on obesity, would e the first of its kind.
Also present for the meeting were MEP Therese Comodini Cachia - shadow employment minister - and shadow health minister Claudette Buttigieg.