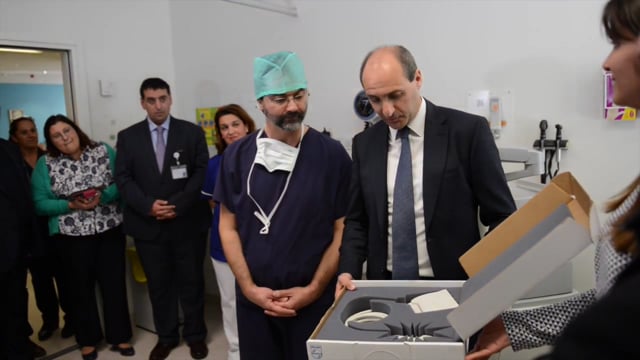 Beating Hearts Malta donates foetal ultrasound probe to Mater Dei Hospital • Video by Ray Attard
The independent, non-profit foundation Beating Hearts Malta has donated equipment worth some €12,000 to Mater Dei Hospital.
Speaking at a press conference earlier today, health parliamentary secretary Chris Fearne said that the probe donated by the group would help doctors to determine whether unborn children have any heart conditions prior to their birth.
The foundation funded around €7,000 for the equipment, while the government covered the rest of the expenses.
"This equipment will allow doctors to determine what needs to be done before their baby is born, and it will allow parents to make the necessary arrangements to travel for treatment if necessary," Fearne said.
He explained that cardiac issues are normally associated with older people, but that every year Malta sees an annual average of 25 to 30 cases of congenital diseases in infants.
"Although the country now offers a number of treatments, there are still some specialized treatments that people are sent abroad to receive," he said, adding that an average of 50 people were sent for such treatments every year.
Fearne added that some 20% of these cases involved children, with a number of them suffering congenital heart disease.
Speaking about his experience as a doctor, Fearne added that he acknowledged the importance of support groups like the Beating Hearts Foundation. He explained that a national conference would be held later this year to bring together NGOs and health organizations to see how their work could be better integrated.
"Beating Hearts offers a wealth of support to people going through difficult situations that goes beyond any aid that professionals can offer," he said.
Founder Katrina Aquilina said that the organization was founded in December 2011 with its main objective being to provide support and encouragement for all adults and children with heart disease. She added that the group had expanded into fund-raising initiatives to provide better equipment to the hospital.
Aquilina said that the group's next target was to raise funds for a new cardiac Echo machine for the hospital.
She explained that Mater Dei hospital currently has some three stationary Echo machines in its cardiac unit, and around five other portable machines, but that the technology was around ten years old.
"We wish to give hospitals the best and most up to date equipment to give the best treatment possible," Aquilina added.
Professor Victor Grech, one of the group's founders, also addressed the conference, and explained the importance of such equipment in providing timely and necessary therapy.