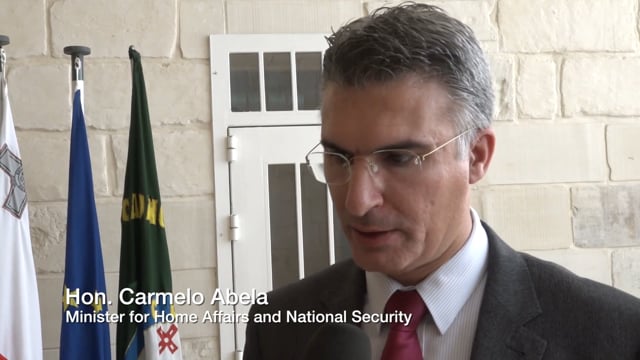 New policy for transgender inmates launched
The launch of a new trans, gender-variant, inter-sex inmate policy will see prisoners at Corradino Correctional Facility (CCF) assigned to wards according to the gender indicated on their identity card, passport or birth certificate, national security minister Carmelo Abela announced at the launch earlier today.
Inmates who have applied for an official gender change on their documents, and whose application was still being processed, would be assigned to an area set up specifically for such cases, after making a declaration under oath, and until their new documentation is issued.
CCF director Paul Debattista explained that some changes had already started taking place with inmates already switching wards according to the gender indicated on their ID card; two inmates switched to the male ward, while another two moved to the female ward.

Debattista went on to explain that under the policy, CCF officials would also be attending courses to bring them up to date on the policy and any resulting changes in procedures.
"Staff at CCF will be trained in things like searches by wardens, as well as how to handle issues of bullying or discrimination within the facility," Debattista added.
"The management's concern has always been the wellbeing of inmates and we will be assessing inmates' wishes and concerns closely to asses what the next appropriate step will be," Debattista said, adding that the policy had been in development for the past year and a half.
Abela explained that the facility had continued to grow over the years with inmate numbers currently at 609, and further challenges developing over the years.
"So far, Malta is one of the first prisons in Europe to offer such services and policies," Abela said, pointing out that people shouldn't lose their dignity just because they are in prison.
The Minister added that the policy sought to ensure respect for the rights and dignity of individuals as well as equal access to rehabilitation services and employment for all inmates, regardless of gender.
Director of the Human Rights and Integration Directorate, Silvan Agius said that the government had been looking at ways to implement the Bill in various sectors, with a focus on educational sectors among others.
"The policy is unique in the way it covers the rights of individuals still undergoing documentation procedures," Agius explained, adding that the government wanted to act to prevent issues and potential tragedies for inmates.
Civil liberties minister Helena Dalli explained that it was not enough to just include the Bill in the country's constitution, but that policies were essential to ensure the safety and respect for the rights of these individuals.
"This policy will go a long way towards improving the life of various individuals and it will push our country forward," she said.