[WATCH] Prime Minister announces snap elections for 3 June
Malta will be going to the polls on 3 June, Prime Minister Joseph Muscat announces during 1 May mass meeting • In a clear message that this election will be a choice between Simon Busuttil and himself, Muscat said it's now the time for the electorate to choose what they want for Malta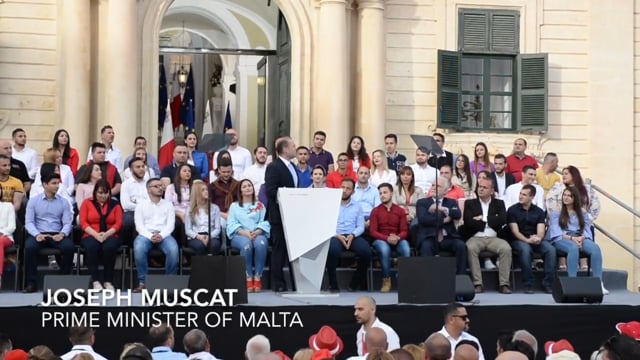 Malta will be going to the polls on 3 June, Prime Minister Joseph Muscat announced during the 1st of May mass meeting.
Before thousands gathered in Valletta, Muscat announced that he had communicated with the President of Malta, Marie Louise Coleiro Preca, informing her that later on today he will be advising her to dissolve parliament and call an election on 3 June.
"The choice is clear: who do you trust between myself and Simon Busuttil? You know that we are the ones who deliver… whilst others stop at talk. Let us not stop halfway… let us walk the rest of the road together for a successful Malta."
Incidentally, that was the only instance Muscat mentioned Busuttil by name in his entire address.
"I am serene. And that serenity comes from the fact that we know that we've worked night and day for the good of this country. We are ready to serve better. There are those who ask us to wait but the country is already showing us that things have started to slow down. I don't need to wait because I know I'm telling the truth. We are thirsty to serve and decide, not thirst for power," Muscat said. "We are serene because we know that others can only come against us with lies."
In a clear message that this election will be a choice between Simon Busuttil and himself, Muscat said: "We did good but we did mistakes too. The good is the result of the work of the whole team; I however shoulder responsibility for the mistakes. Because this is what a leader does: he leads by example and shoulders responsibility for what happens. A leader takes decisions that can hurt but also manages to keep the team together. I look forward to the opportunity to show you what we have learnt."
To cheers, Muscat said it's now the time to decide whether the electorate wanted Malta to stop halfway or continue heading in the direction that generates more success.
"I am not satisfied with the success achieved. I am thirsty to continue leading you towards more success. My dream, my Maltese dream, is to leave this country in the best form it has ever been," he said.
"I don't want to stop halfway. I want to continue moving forward. I am here to ask you whether you want to run with me. Do you want to walk this road with me?"
To chants of "Joseph! Joseph!", Muscat delivered a fiery speech in which he prepared his supporters for the snap elections.
Referring to allegations surrounding Egrant's ownership, Muscat reiterated that this was a lie and that he was standing before Malta knowing that others have lied about him. "I will protect Malta from those who threaten to put people behind bars. I will protect Malta from those who attack others just because they don't agree with him politically. I will defend every single one of you, whoever you are, whoever you side with."
He accused Simon Busuttil of not being able to take decisions under pressure, accusing him of being politically desperate, "to the detriment of this country's economic stability".
"I will not allow this country to fall victim to his political disillusionment. I want to continue working to attract investment. I will not allow one single place of work to be lost because of the uncertainty that others try to plant."
During his speech, Muscat spoke of his pride in serving as Prime Minister of Malta.
"It is this sense of pride that we have gathered here today to mark what we have achieved and the more things that we need to achieve.
"We have been protagonists on the right side of history: where others dragged their feet and abstained we worked to give everyone equality. A road where we accomplished what others described as impossible. In front of difficulty, we just become stronger."
The Prime Minister said Malta was today the envy of European countries, with other member states failing to understand how we transformed Malta into the best.
"Others may try to tarnish Malta's name. Because of their weak character, they have not understood that attacking Malta can only backfire."