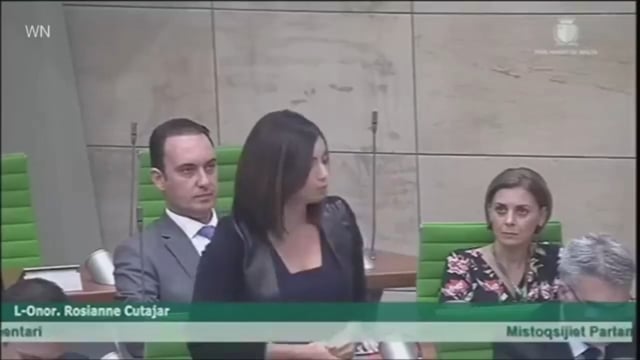 House suspended after nasty quarrel between Muscat and Busuttil
The deputy Speaker of the House had to suspend this evening's parliamentary sitting as both sides flared up in the immediate aftermath of a statement by minister for the economy Chris Cardona.
Cardona, who dubbed newspaper reports linking him to the murder of the late journalist Daphne Caruana Galizia as "smears", raised the Opposition's hackles as he gesticulated angrily towards a Nationalist MP.
It was at that point that former PN leader Simon Busuttil raised his own voice and an intensive spat between him and Prime Minister Joseph Muscat developed: Muscat visibly irate could be heard calling Busuttil "a fraudster", and the sitting was immediately suspended by deputy Speaker Claudette Buttigieg.
When the sitting resumed after a five-minute break, Busuttil raised a point of order saying that Muscat accused him of falsifying signatures - a likely reference to the Egrant affair - and told him: "I will make you carry the can, and you will not even be able to set foot in Malta again."
"Apart from categorically denying these accusations, apart from being proud of what I have done..." Busuttil said, before being interrupted by Labour Whip Byron Camilleri, who said Busuttil had not raised a breach of privilege.
"I want a ruling to make the Prime Minister substantiate those accusations in my regard," Busuttil said, while asking the speaker to tell the Prime Minsiter to return and "either substantiates it or withdraw the comment".
Muscat then stood up to speak, saying that he had already demanded that Busuttil apologise for his actions against his family, and reinforced his accusation of fraud and forgery, referring to the falsification of signatures in the Egrant inquiry.
Opposition leader Adrian Delia then took the floor, saying the Prime Minister should make public the Egrant inquiry in its entirety, saying the accusation he was making was based on his privileged access to the inquiry report. He said that an imbalance had now also been created in parliament, while calling on the Prime Minister to substantiate or withdraw his comment.
Busuttil said he agreed with Delia, and insisted that the Prime Minister had changed changed his version of events.
"What the Prime Minister said is different to what I quote him saying," he told the speaker, adding that he would not allow such a "calumny" to be said about him.
He said he had carried political responsibility when he had resigned from party leader. "If anyone in here knows about political responsibility it is me…none of you are going to tech me about political responsibility."
Muscat responded and said that he had only spoken about what was known. "I remind the leader of the Opposition that this was also the reason he had removed [Busuttil] from good governance spokesperson."
He insisted that Busuttil had made his accusations, which were based on falsified documents, his own and that, he had every right to ask him to carry responsibility.
"Yes I did say I would make sure responsibility fell on him, because for me he is politically responsible for all this, and yes, I told him that he will not show his face in Malta because of the shame. If I were in his position I would have resigned from parliament a long time ago," Muscat said.
The Prime Minister did acknowledge that tempers flared and that he might have been too aggressive. "If I offended you in any way beyond political rhetoric, I apologise."
Busuttil then said that it was true that he had believed the accusations. "Everyone, not just Simon Busuttil, suspected that the company was his."
He then doubled down and accused Muscat of owning the secret Panamanian company Egrant, despite a magisterial inquiry that said it could find no proof of any such ownership or of other accusations made by Busuttil at the time they were alleged by Caruana Galizia. "As long as you keep Keith Schembri and Konrad Mizzi by your side, many people out there, myslef included, believe that Egrant is yours."
Asked by Delia whether he would be withdrawing his comments, Muscat said that he had explained that what he said was political rhetoric, and that he would not be withdrawing his comments.
Trying to link me to Caruana Galizia murder ridiculous - Cardona
The argument broke out as Economy Minister Chris Cardona was replying to a question by Opposition MP Jason Azzopardi, who asked the minister whether he had been to the police since La Repubblica claimed on Monday that he had attended a bachelor party with murder suspected Alfred Degiorgio.
Cardona accused Azzopardi of abusing of his parliamentary privilege – legal immunity enjoyed by members of parliament – insisting that some members of the Opposition were simply trying to find a way of linking him to Caruana Galizia's murder.
He insisted that as a criminal lawyer and a politician it was to be expected that he had many contacts and invitations to events "where there is everyone".
The Opposition, he said, was doing it as it had done with the Egrant affair, and was showing that it is "willing to jump on any bandwagon, even one related to murder".
Cardona said that any politician that had been an MP for a while should be disappointed at the fact that matters had reached such an unprecedented level.
"To try an implicate a politician, who has a past as a lawyer, and to try and implicate him in a murder just because he was at a wedding or bachelor party is ridiculous," Cardona said.
He made reference to the fact that former Prime Minister Eddie Fenech Adami met known criminal Joseph Fenech, known as Żeppi l-Ħafi, under the Regional road bridge and asked Busuttil and Azzopardi how they could interpret events so differently.
"Is there anyone in this chamber, that can exclude that they were ever at a reception where there was a person of bad conduct?" he asked. "Is there anyone here that can exclude, particularly those who are lawyers, that they have never received a phone call from someone who is not of good conduct?"
Turning to MP Karol Aquilina, Cardona asked the Nationalist MP whether he could exclude ever having been to the location mentioned where the party was held. Aquilina said he had been there on only two occasions but said he knew for a fact that Cardona was there regularly in the presence of "a very dubious character".
Cardona however again insisted that he met many people, including other MPs, at social events. "Does this mean we have agreed to meet there and speak, or that we sat down and discussed something specific?"
The minister appealed to MPs and journalists not to keep up the "mental arrogance", adding that what was happening went beyond simply getting some political advantage.