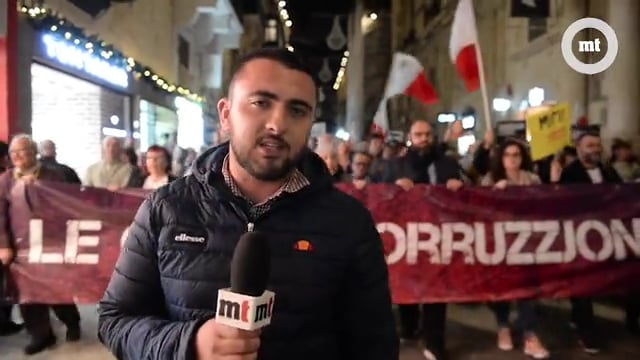 Activists call for the resignation of Keith Schembri in protest against corruption
Civil society activists gathered in Valletta calling for the end of corruption and impunity in a protest on Saturday evening.
Organised by civil society groups Occupy Justice and Repubblika in collaboration with blogger Manuel Delia, protestors called for the resignation of Keith Schembri.
A number of speakers addressed the sizable crowd which gathered in thousands in Republic Street.
Blogger Manuel Delia said that this was the 24th time activists had rallied for justice, yet the government had failed to provide answers.
Delia told the crowd that calling for justice comes before partisan beliefs, and the people have to keep on demanding the truth from the government.
"We are against being governed by thieves, and we must continue in Daphne's legacy," Delia said.
He also called out Keith Schembri for refusing to testify in a libel he had filed against Simon Busutill, stating that his actions prove he is corrupt.
"Simon was right! Simon won!" he told those in attendance.
Delia also put Schembri on notice. "Keith Schembri does not know how much we know about him… Keith Schembri is corrupt. Keith Schembri is corrupt. Now come and file a defamation suit against us all gustuż."
Manuel Delia did not hold back the punches and pointed an accusing finger at Joseph Muscat for defending Schembri.
"Why does the Prime Minister defend Schembri? I don't believe Joseph Muscat knows what is happening in the magisterial inquiry but he knows what Keith Schembri knows. He knows what the business between 17 Black and Macbridge is… and who owns the company Egrant… What the fuck, Joe?" Delia said to resounding applause.
Repubblika activist Vickie Ann Cremona stated that Schembri's actions earlier this week prove the abuse of power being carried out by those leading the country.
"The constant impunity and corruption that is being carried out in the country, is ruining our reputation, and shaking the very foundations this country was built on," Cremona said.
Former PN executive member Mark Anthony Sammut also addressed the crowd, urging those present to not stop fighting for what is right.
"The fight against corruption and the mafia is not fought between four walls, it is not fought in silence, but is fought in the light, where those who hide are scared to go," he said.
Sammut also urged members of parliament to vote against corruption in a motion seeking Schembri's removal from public office after what happened in court on Monday.
"Your loyalty is with the Maltese republic, your loyalty is with those who elected you and not with the leader," he said.
Student Petra Caruana called Schembri "a crook with no conscience", stating that if activists keep on fighting, justice will come to those who are trying to evade it.
People attending the protest were asked about PN leader Adrian Delia's decision to attend.
Some stated that the protest was open to any citizen who opted to fight against corruption, as long as it was not hijacked for any political motive.
"It is his decision to make, he is a Maltese citizen and he has the right to participate," one activist said.
On the other hand, one woman called out Delia for being hypocritical.
"For me, he is the same as them, I don't think he should be here," she said.
The PN leader was asked how he responds to people feeling uncomfortable with his presence.
"The invite was open to everyone, and we decided to attend because the message being conveyed… is an important one," he said.
Delia also said that it is unacceptable to have a government whose highest officials are refusing to answer to claims of corruption.
"We as a PN have called for Schembri to go, but Joseph Muscat has chosen to protect his chosen few, instead of putting the interests of the country at the forefront," Delia said.