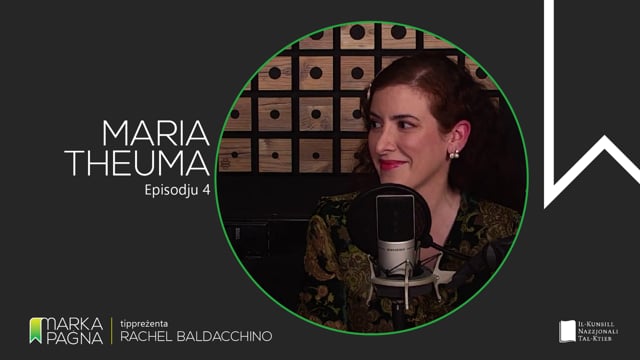 Rachel Baldacchino discusses with Maria Theuma on the National Book Prize award-winning poetry collection 'Varjazzjonijiet tas-Skiet' (Ede Books, 2021) by Nadia Mifsud. The discussion revolves around the rhetoric of silence, the various types of silence, and the confessional element in this collection.
Maria Theuma is a researcher, writer and translator. She studied at the University of Malta and at Goldsmiths, University of London, and holds a doctorate in English. Her research interests include posthumanism, literary theory, comparative literature and visual culture. Recently, an academic writing of hers was published in 'Journal of Posthumanism' (Transnational Press London, Londra) and on 'Counter Text' (Edinburgh University Press, Edinburgh). Her creative work, both in Maltese and in English, appeared on various collaborative multimedia projects, and also on various online and printed platforms, such as 'Scintillas: New Maltese Writing 1' (Praspar Press, London). She wrote reviews on local art and theatre for 'The Sunday Times of Malta' and 'MaltaToday', among others.
Books discussed in this episode:
Nadia Mifsud, Varjazzjonijiet tas-Skiet (Ede Books, 2021)
Music Michael Azzopardi, 'Skrejjen' https://michaelazzopardi.xyz/
Markapaġna is produced by the National Book Council and aired in collaboration with MaltaToday.
Follow us on Facebook, YouTube or listen on Spotify and Apple Podcasts. For more information visit ​​https://ktieb.org.mt/.