Edward Scicluna: Eurogroup might not oppose Grexit
"I think they've now reached a point where they will tell Greece 'if you really want to leave, leave'" - finance minister Edward Scicluna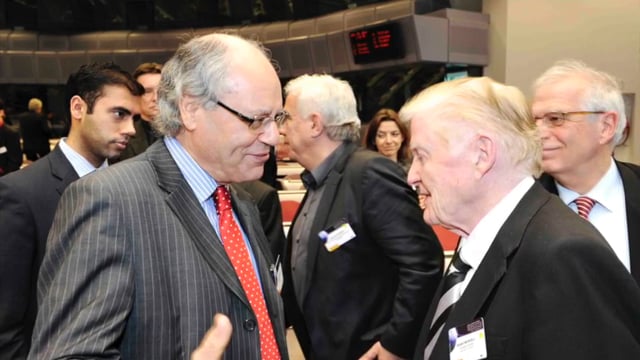 Edward Scicluna Eurogroup might not oppose Grexit
The European Union's largest countries may have had enough of the new Greek government's demands, the Maltese finance minister has told MaltaToday, suggesting that they will not stop Greece from leaving the eurozone.
With little more than a week before its €240 billion bailout expires, leaving the Greek government cash-strapped and its banks at risk of being cut off from ECB credit, Greece could be forced to leave the single European currency.
"I think they've now reached a point where they will tell Greece 'if you really want to leave, leave'," finance minister Edward Scicluna told MaltaToday.
"And I think they mean it because Germany, the Netherlands and others will be hard and they will insist that Greece repays back the solidarity shown by the member states by respecting the conditions," Scicluna said.
Germany rejected a Greek request for a six-month extension to its eurozone loan programme.
Alexis Tsipras's government wanted the extension instead of the renewal of the existing deal, which comes with tough austerity conditions.
European finance ministers meet tomorrow Friday in Brussels to discuss a letter by Greek finance minister Yanis Varoufakis. Tomorrow's vote on the Greek proposals must be unanimous.
"I think tomorrow's meeting will be very difficult," Scicluna told MaltaToday. "There is always that possibility – not 1% but a high probability – that if things finally get really hot and they don't agree, they could [leave]."
Malta, together with Italy and France, is trying to bridge Greece with the hard-liners. "Unfortunately for Greece, they do not know how the rules and the Eurogroup work. They are completely new and that's a drawback for them," Scicluna said.
The ball is currently in Greece's court and it is up to them to determine whether they want to apply or not the conditions of the programme.
The Greek request includes a pledge to maintain "fiscal balance" for a six-month period while it negotiates with Eurozone partners over long-term growth and debt reduction.
The Greeks said they want enough time, without the threat of "blackmail and time deficits", to draw up a new agreement with Europe for growth over the next four years.
A spokesman for the German finance minister was quoted as describing the Greek request as an attempt at "bridge financing, without meeting the requirements of the programme."
Senior officials negotiating behind the scenes for tomorrow's Eurozone meeting will not use the word 'Troika' – the triumvirate of the EC, the ECB and the IMF much loathed by the Greeks – and instead replace it with 'European institutions' and the 'IMF'.
The Eurogroup will however insist on a proper definition of the word 'extension', to which Greece now refers to as a 'Master Financial Assistance Facility Agreement'.
"Extension is a good word, but an extension of what? An extension of its programme is fine but an extension of something that does not exist is not," Scicluna said.
He added that Greece had to respect the conditions agreed with its creditors that forked out billions to bailout the country. Malta loaned Greece €188 million in bailout funds.
Scicluna said it was still possible for the Eurogroup to change direction towards a more growth-oriented agenda in six months' time, a move that would not be restricted to Greece but also to the other countries like Italy or Portugal.
"The question at this stage is how to find a way for Greece to exit 'nicely' with its electorate accepting the programme, while showing that they are going to change something," Scicluna said.