[WATCH] Family of Dutch man found dead believe he died after being drugged and robbed
The lifeless body of young Dutch gaming employee, Justin Plette, was found at Cresta Quay in the early hours of Saturday, his wallet and mobile phone stolen.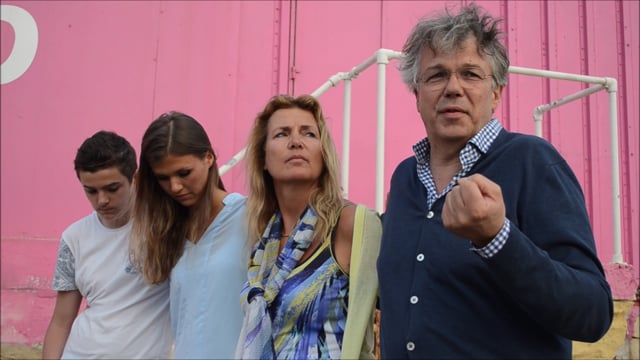 Erik Plette addresses reporters, flanked by his wife and children
The family of a young Dutch gaming employee, whose body was found on a quay near Paceville last Saturday have this evening held a memorial gathering at the spot where his body was found, highlighting the many questions that surround his death.
The body of Justin Plette, a 22 year-old Dutch national who had settled in Malta, was discovered near the sea on Cresta Quay, near St. George's bay, after he had suffered heart failure- the cause of which is yet to be established.
Today, his parents Erik and Margit have told the press that they were certan that his death was not through natural causes.
Justin had gone to a popular bar in Paceville with a friend between Friday and Saturday. On his return from a visit to the bathroom, however, his friend could not find Justin and assumed that he had gone home.
His father told reporters that his son's lifeless body was found the next morning, lying on a cement platform at the quay in the foetal position. "His eyes were open", said his father, "like he was gazing at the sea."
The area where the body was found is only accessible through a hole in the rusty fence. "Justin wouldn't have come here by himself as he didn't know this spot and neither did his friends."
His wallet and mobile phone had been stolen. The family believe that Justin, their eldest son, had been drugged and robbed. They pointed to a similar incident, some days prior, involving a Spanish-Italian young man who had also been drugged. Luckily, that youth woke up and slowly recalled the events leading to his drugging. The parents said the young man had described being "like a puppet, with no will". He is helping police in their investigation.
The family and friends, gathered this evening paint a picture of a happy young man who had just that afternoon received praise from his boss during a one-to-one interview. "He had moved to a new apartment, he had everything going for him," said his mother.

Asked if they had reason to suspect anyone at this early stage, the father said "I don't think the people who killed him are Maltese, but I can't accuse anyone at this stage, I hope they find out who did this because of the investigation and not because of another death."
Justin's mother said it was their fifth visit to Malta. "I love and will still love Malta," she said, expressing gratitude for the support they had received from all corners.
"We will not let this event change our opinion of the Maltese people," she added. "We will be back."