[WATCH] Five priority areas 'are just the beginning', Muscat says of PL electoral manifesto
With the PN's electoral slogan focusing on 'I choose Malta', Joseph Muscat drives home message that choice is between Simon Busuttil and himself
The five priorities that were launched by the Labour Party at the start of its electoral campaign are just "the beginning", Prime Minister and Labour leader Joseph Muscat said, adding that a further five will be announced next week.
The Labour roadshow this evening headed to Rabat, where ONE TV's current affairs programme Pjazza was recorded live.
Crowds packed the tent set up at is-Saqqajja, spilling into the street and the surrounding parking area.
Reminiscent of the 2013 electoral campaign, the Labour leader sat among the audience whilst host Karl Stagno Navarra took comments from Finance Minister Edward Scicluna and candidates running on the seventh district.
Pjazza's panel included General Workers Union representative Jeremy Camilleri, University student Ryan Pace and lawyer Nadine Lia, who all three urged the electorate to choose Labour on 3 June.
"The truth is that this party is offering us a path: the decision is up to you but this is the party that is giving me choices for my family," Lia said.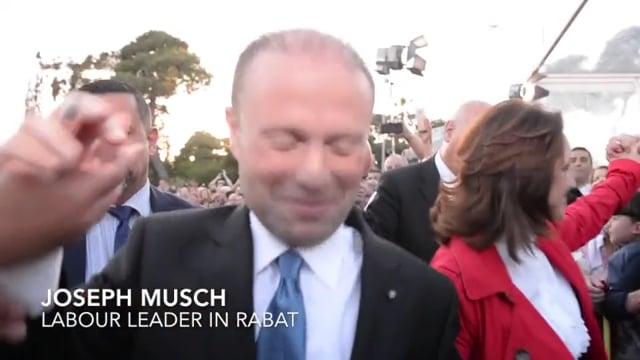 Crowds welcome Joseph Muscat in Rabat
Muscat, who hit out at the coalition led by Simon Busuttil and Marlene Farrugia as the "coalition of confusion", reiterated that the electorate's choice boils down to whether they want him or Busuttil as their Prime Minister.
"Each and every family is currently doing its calculations, analysing how it fared over the past four years and seeing how the country did. They know in their heart that, yes we did mistakes, but they know that we are the government that delivers," he said.
"We've already launched five priority areas… and there are more to come."
Muscat reiterated that the proposals make sense and are doable.
"Ultimately, it's a question of credibility and whom do you trust to continue improving your lives. It's with this sense of responsibility that I've called a general election because I don't want anything to endanger this strong economic momentum.," he said, as he urged the electorate to vote.
Finance Minister Edward Scicluna said that the 2013 roadmap, launched by the Labour Party, had not been immediately understood by the electorate.
"The PN ridiculed it and a lot of people had failed to understand what this plan meant; they had expected to receive the things they had been waiting for, for 25 years. But today you can see and understand what we did and how we first had to regenerate the economy before focusing on other areas."