[WATCH] Busuttil pledges key Gozo policies in first 100 days of PN government
Simon Busuttil: 'What we're speaking about here is our political aim. Electoral manifestos only include paragraphs of proposals not encyclopaedias'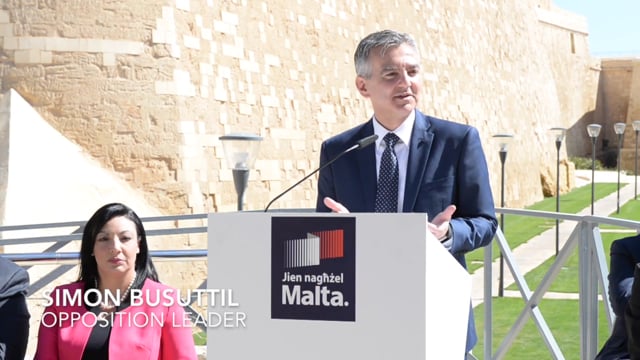 Busuttil pledges key Gozo policies in first 100 days
Opposition leader Simon Busuttil today pledged that a future Nationalist government would implement five key Gozo policies in its first 100 days of government.
Flanked by the PN's Gozo candidates at a press conference at Cittadella, the PN leader lambasted the Labour government's track-record on Gozo - claiming that its only achievement was placing a public toilet at Hondoq ir-Rummien.
The PN's proposals include a financial grant of €10,000 to young Gozitan couples wishing to buy a house in Gozo, as well as Maltese families or youths who choose to relocate to the island.
Busuttil warned that Gozo has an ageing population, with several youths opting to move to Malta, and that at this rate it risks becoming an island for the elderly.

"Before this happens we must do everything we can to reverse this trend and encourage more young families to settle in Gozo," he said.

When questioned for further details on the proposal, including whether it will be applicable to foreigners and to Gozitans who already own a house in Gozo, Busuttil repeatedly said the details of the scheme would be published in the first 100 days of a PN government.

"What we're speaking about here is our political aim. Electoral manifestos only include paragraphs of proposals not encyclopaedias," he added.
However, he did say that the scheme would be budgeted and would apply on a first-come-first-serve basis, suggesting that it would be capped.
When asked how the PN government will ensure that the beneficiaries of the grant are actually living in the house and not renting it out to third parties
He insisted however that the scheme would include safeguards against abuse to ensure that beneficiaries of the grant are actually living in the house they claim to be living in.
"We're not going to allow people to merely change their ID card to a Gozitan address and get €10,000 just like that. It won't be as simple as that, or else it will defeat the whole purpose.

Of primary importance for a new Nationalist administration is the renationalisation of the Gozo hospital, which Busuttil said would be the future Gozo minister's first task.
He refused to estimate how much the renationalisation process would cost, but said it would definitely cost less than what the government is currently paying Vitals Global Healthcare – the company granted a 30-year concession to run three Maltese hospitals, including the Gozo hospital.
"The government is currently paying Vitals so much money, and yet the services at the Gozo hospital haven't improved," he said.
In the first 100 days, according to Busuttil, a Nationalist government would also amend the constitution to give Gozo regional status and would publish a White Paper for the setting up of a Gozo regional council. He said that this would allow Gozo to specifically apply for EU regional funds that could reach up to €250 million.
Another proposal to be enacted in the first 100 days of a PN administration is the re-introduction of a commercial ferry service between Gozo and the Grand Harbour, as well as a fast ferry service between Malta and Gozo by the end of 2017.

Finally, he said that a Nationalist government would take stock of geological studies on the feasibility of an underground tunnel between the two islands, which have been carried out by the current administration.

"If as expected, the study proves that a tunnel is indeed feasible then PN government will instantly kick start the process for the construction of the tunnel," said Busuttil.
'No problem with investigation into MEP expenses'
Responding to questions, Busuttil said that he would have no problem with OLAF, the EU's anti-fraud investigator, investigating the Nationalist MEPs expenditure.
The Labour Party has accused the three PN MEPs – Roberta Metsola, Therese Comodini Cachia and David Casa – of breaching EU law by spending part of their parliamentary allowance on renting office space at Dar Centrali rather than on local constituency offices.
Nick Aiossa, a policy officer at Transparency International EU, told Politico that it is against the rules for MEPs to funnel allowances back to domestic political parties and that OLAF should investigate the allegations of misuse.
"We have nothing to hide, and indeed out MEPs have published their audited accounts online," Busuttil said. "Everyone is free to investigate them…OLAF doesn't need me or anyone else to tell them what to investigate."
'Busuttil's Gozo policies lack beef' – Labour
The Labour Party responded to Busuttil's press conference by claiming that the PN leader has no idea how his grant scheme will operate in practice.
"Four days into the campaign, Busuttil came up with a proposal to subsidise Gozitans [who want to buy a house in Gozo] and messed it up. He doesn't know how it will work or who it will be applicable to, and journalists ended up asking him to beef up the proposal."
The PL mocked Busuttil's claim that the government's only Gozo achievement was placing a public toilet at Hondoq.
"He made this claim while speaking at a press conference at a monument of the Labour government…the restored Cittadella."