[WATCH] Election about principles and not proposals, Busuttil tells mass meeting
Simon Busuttil: 'Every party can come up with proposals and promise everything to everyone, but only we can promise the most sacred principle of honesty'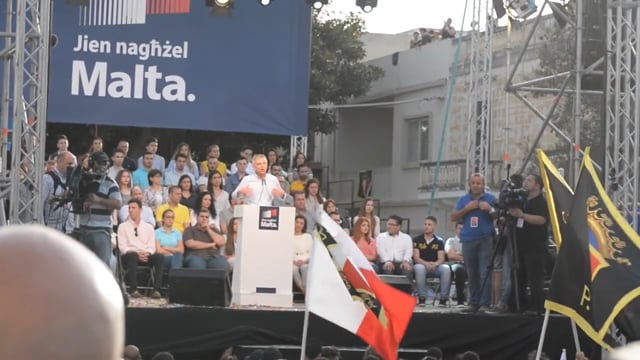 Election about principles and not proposals, Busuttil tells mass meeting
PN leader Simon Busuttil insisted that the upcoming election is not a competition between proposals listed in party manifestos, but rather about safeguarding fundamental principles.
Delivering a fiery speech in front of thousands of people at a mass meeting in Balzan, the PN's first since the Prime Minister announced a snap election last week, Busuttil said that eliminating corruption is ultimately more important than coming up with manifesto proposals.
"A party's manifesto proposals are like the rooms inside the house, but I am speaking here about the house's foundations without which the house will crumble," he said. "Joseph Muscat has built a castle on sand which is why he has called an early election.
"As of tomorrow, the PN will continue building on our proposals and release new ones too, but this election isnt a competition between proposals but an election about principles.
"Every party is able to come up with proposals and promise everything to everyone, but no proposal stands up to the most sacred and fundamental principle of honesty. Honesty is a principle that we can promise and Joseph Muscat cannot."
Busuttil accused the Labour government of embarking on an "enormous campaign" to buy votes by dishing out jobs and promotions and giving financial compensation to police officers and pensioners.
"I urge these people to take everything that is theirs by right, and I ensure tham that they will contonue enjoying it under a PN government," he said. "We are certain that none of you will sell this country out because the government has given you what is yours by right at the last second."
Former Prime Minister and President Emeritus Eddie Fenech Adami was present at the mass meeting, while former Alternattiva Demokratika chairperson Michael Briguglio was given a seat behind the PN leader on stage.
In his speech, Busuttil lambasted the police commissioner, the Attorney General and the MFSA for not taking action on a daming report by the Financial Investigative Analysis Unit that reportedly found "reasonable suspicion" that OPM chief of staff Keith Schembri and Nexia BT managing partner Brian Tonna were involved in money laundering or the proceeds of crime related to kickbacks from the sale of citizenship scheme.
He reiterated that a PN government will instantly replace police commissioner Laurence Cutajar, that the heads of authorities will only be appointed by a two-third majority in Parliament, and that ministers will be held to strict ethical standards.
Moreover, he pledged that the PN will ensure that the economy gives opportunities to everyone, so that people will no longer have to beg politicians for jobs. It will also boost investment in education, health, sports, infrastructure, roads, and the environemnt.
"We have nothing to fear but fear itself," he said, a line that Franklin Roosevelt had famously used in his inaugural address as US President.
"We don't have millions of euro to spend to erect billboards on every corner like Joseph Muscat does, but we have something better than money which is righteousness," he said. "We know that we are in the right, and we know that righteousness will triumph."
'Thieves are friends of the dark'
One of the speakers was lawyer Bernard Grech, who warned of "an organised web" of people who try to undermine critics of the Labour government through social media and intimidating phone calls
He also accused Labour MPs of reneging on their oaths to defend Malta, by choosing instead to defend the Prime Minister and his "corrupt clique".
"Thieves work in the dark, they are friends of the dark, and rely on friends of the dark. Thieves try to hide the proof and go as far as wearing gloves to conceal their fingerprints," he said. They lie to you, look into your eyes and tell you they are serene and innocent. However, once the lights switched on and the police sirens start blaring, the thief gets confused and runs away."
Grech said the time is ripe for Constitutional change, including strenghening the courts, "giving a new meaning" to the Office of the President, and removing political influence from PBS, the Department of Information and the Broadcasting Authority once and for all.
Actress Pia Zammit, renowned for her impressions of Michelle Muscat at the Comedy Knights show, was also given a platform.
She accused the Labour government of lying to the people, and warned it is being led by the Azerbaijan dictatorship.
"I choose integrity, I choose honesty, I choose Malta, and if you tell me u ejja, I will tell you mela," she said, a reference to one of her Comedy Knights catchphrases.