[WATCH] Work on railway to start in next legislature, Muscat pledges
Joseph Muscat says detailed studies on railway system to published in coming days, work to commence under a new Labour government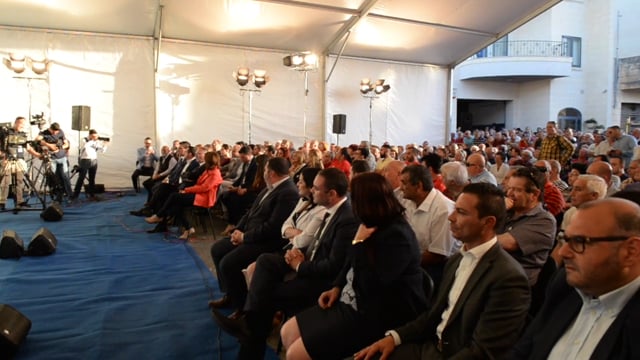 Work on railway to start in next legislature, Muscat pledges
Prime Minister and Labour leader Joseph Muscat made a bold pledge that a new Labour government will start work on the construction of a railway system.
Addressing a political activity in Kirkop, Muscat said that the government will in the coming days publish the full details of studies it had commissioned on the feasibility of a mass public transportation system, that will include both light railway and underground systems.
"We won't just publish the designs but the full details of these studies, after which we will launch public consultation process," he said. "Work on this transport system will start under a new Labour government."
Muscat also pledged that a new Labour government will offer free public transport to all children, students, pensioners and people with disabilities – an unprecedented move that is estimated to cost som €3 million a year.
People who give up his driving license, even temporarily for a year or longer, will also be allowed to ride the bus for free.
Free ans supervised school transport will be extended to students who attend church and independent schools, as a means of combatting early-morning traffic caused by parents driving their children to school.
'Electoral Commission should solve voting document problem in serenity'
During his political activity, which took the form of a Q&A session, Muscat urged the Nationalist Party not to undermine the Electoral Commission after reports that voting documents are lacking the most basic of security features.
PN deputy leader Beppe Fenech Adami warned that the voting documents, which are set to be distributed to households as of tomorrow, are not laminated and have been printed with ink that can easily be smeared of wiped off.
Muscat didn't deny the reports but argued that the material on which the voting documents were printed was approved unanimously by the entire Electoral Commission, including the members appointed by the Opposition.
"It's a technical issue and we should all allow the Electoral Commission to solve it in serenity," he said. "I don't want anyone to have any doubt about the electoral process, and I urge the Opposition not to try and undermine the electoral process."
'Busuttil's Freudian slip on Birgu betrayed his character'
Muscat also took PN leader Simon Busuttil to task for his recent warnings that Birgu is facing a problem of drug abuse and social housing shortages.
"Although I am not from the south, I still felt offended by Busuttil's words. He is trying to re-introduce the sterotypes that there are rich people and hamalli, when from experience I know that problems exist everywhere. I have seen drug abuse problems in the wealthiest of families, and I have seen professionals who hail from poor families. I don't want to start a class war between the north and the south, the rich and the poor, the haves and the have-nots."
He claimed that Busuttil's statement might have been a Freudian slip that betrays his deeply held stereoptypes.
"A few years ago, Busuttil told [parliamenary secretary] Deborah Schembri that she has the face of a Nationalist," he said to jeers from the Labour supporters. "He holds stereotypes that Nationalists are good and Labourites are bad and makes distinctions between the south and the north and between the rich and the poor. He doesn't know that the Maltese people share the same face – that of a hardworking people."