[WATCH] PN refutes Muscat's claims it will shut down IVF department
Joseph Muscat claims Nationalist Party ideologically against IVF treatment, but PN pledges to invest further in Mater Dei's IVF facility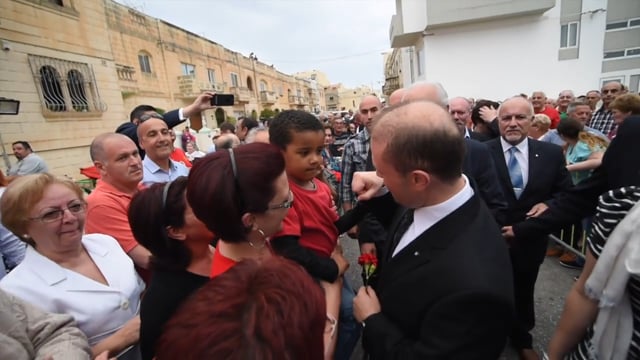 Joseph Muscat claims Malta is at a crossroads on civil liberites and science
The Nationalist Party has moved quickly to deny claims by Prime Minister and Labour leader Joseph Muscat that a future PN government will shut down the IVF department at Mater Dei.
Addressing a political activity in Iklin this evening, Muscat recounted how the Labour administration had inherited an IVF laboratory at Mater Dei that was in a disastrous state.
He claimed that the PN is still ideologically against IVF treatment and warned that afuture PN government risks halting scientific progress in Malta.
"Two medical consultants who are still close to the Nationalist Party had done everything possible for the IVF Department not to be used," he said. "The Department was so misused that we had to throw away all the equipment and tools and spend hundreds of thousands of euro to replace them. If the PN returns to government, it will do everything possible to shut down the IVF Department for good."

He warned that the Nationalist Party is still ideologically against some aspects of scientific progress and claimed that scientific progress in Malta is at a crossroads.

"The Nationalist Party subscribes to a fundamentalist ideology which states that people should not have babies born through IVF, the same ideology which made them come out against the morning-after pill," he said. "We are at a crossroads. We can either continue down the path of scientific progress with ethical debates or we can choose a coalition of confusion, a substantial part of which still believes that scientific progress should be halted."
However, the PN in a statement accused Muscat of lying and pledged that it actually plans to invest more in the IVF department so that it can offer the highest quality of service.
"It was a Nationalist government that had introduced IVF in Malta in 2012 by virtue of the Embryo Protection Act," the PN said. "Muscat is in panic mode because of his desperation to remain in power and he has once again been caught out in a lie."
The PN introduced the practice of freezing eggs and outlawed embryo freezing, a medical procedure that was then not regulated.

Amputee addresses the crowd

Muscat's speech was preceded by a brief speech by Pauline Cassar de Lorenzo, a meningitis sufferer whose illness cost her both her legs.

She praised the Labour government for introducing a disability pension for amputees, arguing that the previous administration wasn't sympathetic to her cause.

It was also addressed by three medical professionals – cardiologist Robert Xuereb, gynaecologist Mark Sant and medical consultant Prof. Stephen Montfort.

Montfort hailed Labour's plan to build a new mother and child hospital and a psychiatric hospital as one that will free up several beds at Mater Dei and therefore end the problem of patients beings treated in corridors once and for all.

Sant hailed the IVF law and called for it to be improved further. To boos from the crowd, he said he had started discussions on the matter with Partit Demokratiku leader Marlene Farrugia and that shadow health minister Claudette Buttigieg had cancelled a planned appointment and never re-scheduled.

On his part, Xuereb hailed Labour's plans to add more medication for heart problems to the governments' formulary list.