[WATCH] Prime Minister: 'Simon Busuttil's thirst for power made him lie and hurt Malta'
Joseph Muscat renews challenge: 'Simon Busuttil is scared because he knows that he's lying and that he tainted my name basing himself on fake documents' • Pledges a 'liberal leap forward'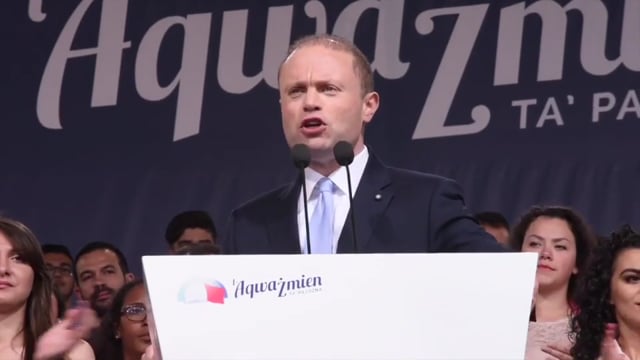 Muscat: History to judge Busuttil as weak leader
If the leader of the Nationalist Party is to be taken seriously he must accept to say whether he would resign if the Egrant allegation he accepted is confirmed to be a total fabrication, Prime Minister and Labour leader Joseph Muscat said.
Addressing thousands of party supporters gathered in Naxxar, Muscat delivered a commanding speech in which he renewed his challenge to Simon Busuttil.
The PN leader has shrugged off suggestions that he should resign if the allegation levelled against the Muscat couple – that Michelle Muscat owns a share in Panama company Egrant – turns out to be false.
"I never lied. And I will resign if the inquiry links any member of my family to the company, even if the inquiry is published just a day before the general election, or a day after. I know that I am telling the truth," Muscat said.
"But others won't accept the same challenge, knowing that they've based their claims on a lie and fabricated documents. They took people to the streets based on this fabricated lie. Simon Busuttil is scared because he knows he sullied my name on a lie."
Muscat said that the PN leader's "thirst for power" had pushed him to harm the country. "He is not fit for purpose. A prime minister needs to take decisions from morning to evening. I shoulder them every day. My word counts. But Simon Busuttil's word is only as strong as clay can be."
The Labour leader warned his political rival that he would have to shoulder the responsibility for what he did. Actions, Muscat said, have consequences and Busuttil would have to shoulder responsibility for the fabricated lie "against the country".
"I am convinced that the electorate will choose what's right for Malta," he added.
Muscat said it was now clear more than ever that "the only thing that unites the coalition of confusion (the PN and the PD) is their hatred for me".
"This is a coalition of confusion whose captains are only united by their hatred of me. Hatred doesn't lead a country. You need to love your country. There will be nothing that unites them once I'm out of the scene."
To a fired-up crowd that kept shouting out his name, Muscat also addressed the cohort of undecided voters – who according to a MaltaToday survey currently stand at around 11%. The fresh polls released this morning also showed that the percentage of undecided respondents who had voted Labour in 2013 has also dropped by six points, compared to the previous survey.
Aware of the number of voters who feel that they may have been fooled by some of the Labour candidates during the 2013 election, Muscat's message was clear: "Don't vote for those who have taken you for a ride but vote for the other candidates of the Labour Party. I assure you that I am listening to you and that I understand.
"We are listening to people on good governance and the environment and there is an unprecedented commitment to address social housing. But you cannot stay home. You need to go out to vote. It is the duty of all those who love this country to vote for the PL candidates. The choice is clear."
Among others, Muscat said that he would keep his word on constructing the undersea tunnel linking Gozo to Malta and that he would keep his word on developing the racetrack for motorsports.
"We will keep our word and we will give equal marriage for all. I promised that Malta would be the best in Europe, and now I promise to make Malta the envy of the world."