[WATCH] Busuttil blasts Muscat for spoof website: 'Your only weapon is lies'
Simon Busuttil says Labour's new spoof website is 'unacceptable in a democracy' and proof that the only weapon left in Joseph Muscat's arsenal is lies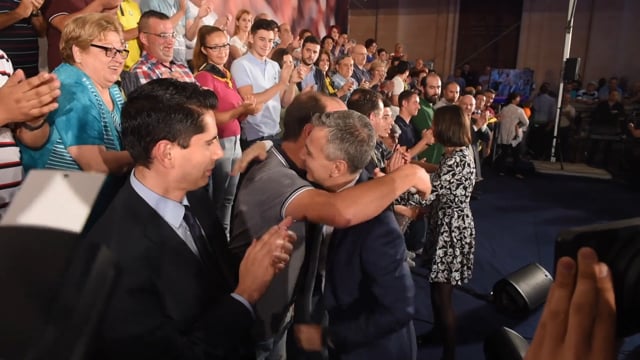 Simon Busuttil addresses a political activity in Haz-Zebbug
Simon Busuttil tore into Prime Minister Joseph Muscat after the Labour Party launched a spoof website using the PN leader's name as its domain name.
The satirical website, www.simonbusuttil.com, is replete with images and posts mocking Busuttil, his candidates and his proposals.
"Such deceptive lies are unacceptable in a democracy, and it is often the small things that give us an insight into how someone's mind works," Busuttil said at a political activity in Haz-Zebbug. "It shows that Muscat can no longer fight with the truth, but has to resort to lies. The only weapon he has left at his disposal is to lie, and yet I will fight lies with the truth and I know that the truth will triumph."
In his speech, Busuttil also outlind the PN's recently proposed tax cuts, key amongst which is for income tax for people who earn €20,000 or less to be slashed to 10% of their earnings. This means that someone currently earning €20,000 will see their income tax contributions halved from €2,275 to €1,090
The PN leader described this proposal as "radical" and said it will ensure that the economy starts serving the people.
The PN is also proposing that income tax for part-time workers be slashed to 10% of their earnings, and that income tax for small businesses and people who are self-employed be slashed to 10% on their first €50,000 in profits.
He dismissed Muscat's warnings that the latter proposal will discriminate between different categories of workers in favour of self-employed people.
"Muscat said that he disagreed with our proposal to reduce taxes because it will amount to discrimiantion," he said. "Does this mean that he considers tax reductions for self-employed and small businesses as discrimination because we won't also reducing it for others who earn more?
"We have reached a ridiculous situation whereby the only weapon at Muscat's disposal is to twist the truth and to lie."
He warned Muscat to "be careful" because the people are "furious at your constant attempts to fool them and treat them like imbeciles".
"The people cannot wait for 3 June when they can vote to kick you out."
Fenech Adami: 'Muscat's rottenness was clear from the start'
In an earlier speech, PN deputy leader Beppe Fenech lambasted Muscat for leading "the most corrupt government in our country's history".
"It was clear from the start that there was something rotten about in this group of people who took control of Castille," he said. "Indeed, the first thing that came to Muscat's mind after he was to rent his own car to himself out of taxpayers' money.
"On the third day after the election, Muscat used his personal email to sign off a €4.3 million deal to pay off the debts of the owner of Café Premier. On the fourth day, the three big-heads in Castille started the process to open three Panama companies."