[WATCH] Simon Busuttil accuses Keith Schembri of being 'in denial'
The PN leader said that he had no doubt that more would be revealed about alleged corruption related to Enemalta and the LNG tanker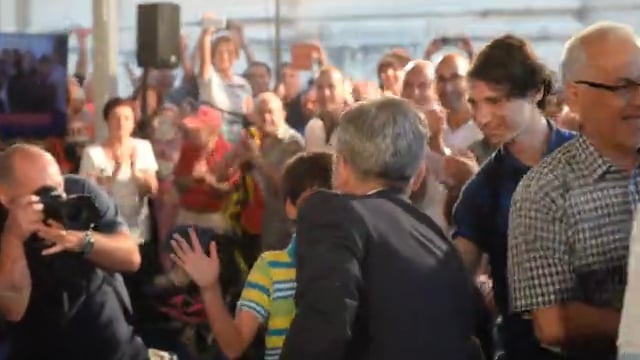 Simon Busuttil insists Keith Schembri is in denial
Nationalist Party leader Simon Busuttil has insisted that an email sent out by OPM chief of staff Keith Schembri in response to the Sunday Times of Malta's editorial last Sunday, shows the extent to which Schembri is in denial.
Speaking at a political activity in Mosta, Busuttil said that the editorial had made it clear that the government was corrupt and needed to be voted out of office, adding that it was so important that it was placed on the front page.
Busuttil, quoting the editorial, said there was ample evidence showing that Keith Schembri was a money launderer.
"You know I agree with the Sunday Times about it. I was the one that brought evidence forward to expose this criminal," said Busuttil, who added that Schembri's assertion that there is no concrete evidence proven just how in denial he was.
"Who do you think you're kidding," said Busuttil, to a rapturous applause. "I can assure you there are 8 thick box files were full of proof."
Despite this, he said Prime Minister Joseph Muscat had gone to Friday's debate on Xarabank and claimed that the files were empty, and reiterated his conviction that the inquiry would definitely find enough evidence to open criminal proceedings against Schembri.
"Imagine the disaster we would have if Joseph Muscat were to win next Saturday, only for Keith Schembri to be taken to court and possibly spend the rest of his life in jail," he said.
"What does Muscat expect, that he should be allowed to govern if this happens? Is this the accountability he promised us?"
He said that Schembri, in his email had also claimed that the Prime Minister had not dismissed the accusations as inconsequential, but had asked for a magisterial inquiry.
"There are three inquiries, two of which were started because of information I brought to light, and the third one, was opened by Muscat after he first allowed the owner of Pilatus Bank to clear the evidence and leave the bank with full bags, and after the Commissioner had finished his rabbit," he said, adding that Muscat had only asked for the inquiry after the was assured there was no evidence for the police to find.
Finally, Busuttil said the editorial stated that Schembri wasn't investigated and was above the law, a claim Schembri said was nonsense because "the inquiry was proceeding normally".
"The police have had the [FIAU] report for a whole year and did nothing," said Busuttil, who said that not only did the police do nothing, but could also not be trusted to cooperate with the inquiring magistrate.
The PN leader said that Schembri had ended his email by praising the Prime Minister and saying Muscat was not only his boss, but also his "best friend".
"This is exactly why Joseph Muscat must resign. If one goes, so does the other," said Busuttil.
Turning to reports published by the Malta Independent over the weekend, he said that the paper's content manager had also testified in court.
"Today he presented proof showing there was also corruption in the LNG tanker and the sale of Enemalta," said Busuttil. "They have stolen everything."
He said he had no doubt that more would be revealed about the Independent's claims.
"They never thought they would have gotten caught but Jesus is great. God is with us. The truth always emerges," he said.
He once again underscored his belief that Saturday's election is not a normal one, and would be remembered as one of the elections that wrote the country's history, like the 2003 election, which saw Malta join the EU, had.
"It was the last time we voted not for one of the two parties, but for what was good for the country," he concluded.