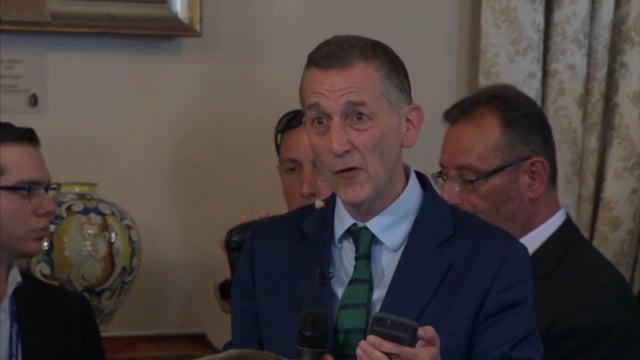 EU27 lay out guidelines for Brexit negotiations
The EU has presented its draft set of guidelines for its upcoming Brexit negotiations with the UK, clearly insisting that an exit deal must be finalized before talks on a new trade deal can begin.
The guidelines, launched at a press conference at Castille by EU Council President Donald Tusk and Prime Minister Joseph Muscat, state that the EU will take a phased approach to Brexit. The first phase will aim to settle the terms of the UK's removal from the rights and obligations derived from membership and provide "as much clarity and legal clarity" as possible to citizens and businesses.
Only once "sufficient progress" has been achieved on this phase will talks move on to negotiations on a future relationship.
UK Prime Minister Theresa May formally triggered Article 50 on Wednesday, kick-starting a Brexit negotiation process that is expected to last two years.
The EU's guidelines state that EU citizens currently living in the UK and British citizens currently living in the EU must keep on enjoying their current rights, and that such guarantees must be enforceable and non-discriminatory.
"The guidelines will be tough and probably even confrontational, but it will not be a war and the EU and the UK must remain friends," Muscat said. "The rights of citizens will be prioritized and they must not be used as bargaining chips."
They also call for the prevention of any legal vacuums that could arise once treaties cease to apply for the UK, and that could impact EU businesses trading in the UK and British businesses trading in the EU.
The EU will honour the 1998 Good Friday agreement between the UK and Ireland, and seek "flexible and imaginative solutions" to avoid the formation of a hard border with Northern Ireland.
It also states that the EU and the UK must honour their financial commitments to each other, and reach a settlement that covers all legal and budgetary commitments as well as liabilities. Tusk insisted that this was not tantamount to a "Brexit bill or penalty".
"The EU is not adopting a punitive approach to Brexit, as Brexit is punitive enough," he said. "We owe it to each other to make this divorce as smooth as possible."
In a clear warning to the UK not to attempt to gain advantage by using divide-and-rule tactics to cut special deals with national capitals, the guidelines state that member states will not negotiate individually with the UK but through a fixed point of reference – the EU's chief Brexit negotiator Michel Barnier.
"It is obvious that the UK is in contact with individual member states, which is not a problem, but I want to make it clear that all 27 member states are committed to negotiating on Brexit through Barnier as a point of contact," Muscat said.