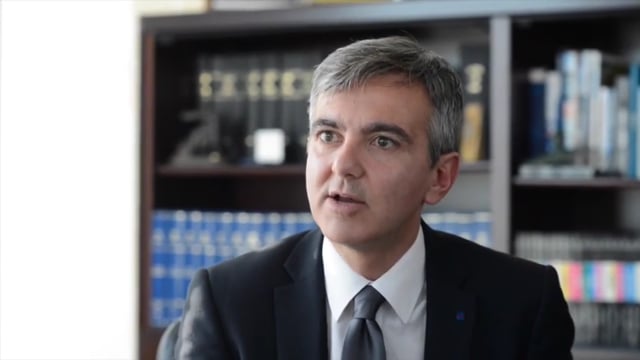 Simon Busuttil interviewed: 'Resignations await' • Video Ray Attard
A week is a long time in politics, it has been said, proved right in the past few days as new developments on the shooting incident involving Home Affairs Minister Manuel Mallia's driver overtook each other on a daily basis.
Three days ago as I sat in Opposition leader Simon Busuttil's office just before interviewing him, I went through the questions I had prepared on the shooting.
But on Friday evening, as I was putting the final touches, I received a message from the PN's communications director informing me that the Opposition's media had broadcast a transcript of police calls made about the incident, which shed new light on the case, making the interview obsolete.
So yesterday afternoon, I sat again in Busuttil's office to ask him new questions about the shooting incident, hoping that no new developments would emerge in the following hours.
Undoubtedly, not only has the shooting dented the government's credibility, it has also given Busuttil and the PN a new lease of life.
Minutes before, an invigorated Busuttil held a news conference at the party's television studios, in which he said Prime Minister Joseph Muscat should "come clean" over his involvement in what the Opposition has described as a cover up.
What has changed following the publication of the recordings is that Minister Mallia, acting police commissioner Ray Zammit and the government's chief communications director, Kurt Farrugia, were aware of what had really happened as the statement was drawn up which claimed that warning shots were fired in the air.
"The Opposition is angry and disgusted at Minister Mallia and the Prime Minister's political dishonesty because this has now been exposed clearly. A number of key people knew the whole truth before the government's official press statement was issued. These transcripts show this very clearly and we cannot but affirm how dishonest this government is," he says.
So what should happen now?
"Firstly, Mallia must be sacked immediately because his credibility is in tatters. Secondly, we now know that acting commissioner Zammit and Kurt Farrugia were aware of what was going on and in Farrugia's case, he issued the statement when they were well aware that the facts were completely different.
"He knew what the truth was but he still issued a statement which covered up the truth when he should have been setting the record straight."
On November 19, a couple of hours after the shooting, a government statement claimed that Mallia's driver fired "two warning shots in the air" with the bullets, however, lodging themselves in the car, as photographic evidence showed.
Thirdly, Busuttil says, "the Prime Minister's credibility is in question because if his communications director knew everything, how is it possible that the Prime Minister wasn't informed? I have no doubt, it's unimaginable for Farrugia not to call the Prime Minister over such a serious matter. If the Prime Minister knew and was informed about everything, then he's also an accomplice in the cover up".
The PN leader forcefully adds: "I challenge the Prime Minister to put people's minds at rest and publish the call log of his mobile phones to show who he spoke to and who called him in the crucial two and a half hours between the shooting and the publication of the statement.
"We're also telling the prime minister 'for once speak the truth and nothing but the truth, stop lying and shoulder your political responsibility'."
Pointing out that Muscat was elected on the promise of political accountability and transparency, Busuttil says "I'm now telling him 'keep your word and shoulder political responsibility'."
So should the Prime Minister resign? I ask.
"There's no doubt that we also expect the Prime Minister to shoulder his responsibilities otherwise he would be an accomplice in what Mallia did. If the Prime Minister knew the truth before the statement was issued then he should shoulder his responsibility."
But does this mean Muscat should resign? I insist.
"He should shoulder his political responsibility. Let's take it step by step and see whether he really knew. I challenge him to come clean and tell the truth for once. Then we'll take matters from there."
I also wonder whether the PN media has more details in store and I ask whether the party media will be publishing all the material in its possession.
Claiming that he does not interfere in the PN media's work, Busuttil is full of praise for his party's journalists and the independent media for digging up more information on the case and as he puts it "uncovering the government's deceit".
However he answers that "it's up to the party's media whether to publish more details".
However I argue that for clarity's sake, and to ensure that no doubts remain, it would be better if all recordings are published.
But he cuts my question short and says "there's no doubt that Mallia knew everything before the statement was issued, as did Kurt Farrugia and Ray Zammit".
He adds that from the very first day, he believed that the inquiry was "useless" because "the most it can do is confirm what we already know, that there was a cover up".
The publication of the transcripts, he adds, vindicates the Opposition, who from the very beginning claimed that the government covered up the truth.
Whatever the inquiry's conclusion is, Busuttil argues, it will make no difference because "we were right from the very beginning. It was never a question of whether Mallia fired the shots himself, it's a question of who should shoulder political responsibility. Mallia should surely shoulder his and if he was informed of what was going on, Muscat should also shoulder political responsibility."
I turn to the arraignment of Police Sergeant Leeroy Balzan Engerer who this week was remanded in custody after pleading not guilty to tampering with evidence in the shooting incident.
Is he a scapegoat? I ask. "What's certain is that compared to the gravity of what really happened, the matter concerning the police sergeant who allegedly deleted a file is an attempt to deviate attention. What's important is not what the sergeant did but what Mallia did, what his driver did, what the acting commissioner did and what Kurt Farrugia and Joseph Muscat did. We are politicians and we're interested in what the politicians did. The people did not vote for the sergeant but they voted for Manuel Mallia and Joseph Muscat."
But what has kept Muscat, who has in the past shown a ruthless streak in dealing with internal problems, from taking action against Mallia?
"The reason is that Muscat is hostage to his own electoral promises and he's hostage to people who helped him win the election, such as Manuel Mallia. Now he has ended up being Mallia's defence lawyer. What an irony, to have a Prime Minister put himself in such a situation."
The Opposition has tabled a no-confidence motion in Mallia, but given the government's nine seat majority in parliament it's unthinkable that the motion will be approved. So what does the opposition think it will achieve?
"Our job is to uncover these things, we'll do everything within our power but then it's up to the people to reach a conclusion. But as a party in opposition, we're going one step further and if the people vote us into power we'll ensure that institutions are truly independent and protect the people, not politicians. We will ensure that meritocracy is upheld by having a parliamentary committee scrutinise key public appointments. We are putting forward a number of proposals from now, to show that we have learnt a lesson and have a desire to build politics on honesty and seriousness. I did not enter politics and become party leader to warm my chair but to change the way politics is done in Malta and I'm determined to do so."
Hard as it is to discuss other issues, I point out that the shooting incident has overshadowed the 2015 Budget which the PN dismissed as being socially unjust. Why is this? I ask Busuttil.
"With so many scandals emerging in the last few weeks, the budget has been ignored by the people," he says, adding that the people are "angry and disgusted" with the series of scandals involving Labour ministers and MPs, including Luciano Busuttil's conflict of interest in the adjudication of a contract by a local council and Minister Helena Dalli's involvement in what the PN claims is an illegal construction of a farmhouse by her company.
"Muscat says he is angry but it's not true, otherwise he would have taken action. The people are the ones really disgusted and that's why they're ignoring the budget."
He says that the budget is socially unjust because it does not distribute wealth fairly and vulnerable sectors such as pensioners were given a bad deal.
Busuttil says that despite weekly shopping expenses for pensioners rising from €50 to €81 "they got nothing beyond the 58c cost of living increase and the €35 one off bonus".
But was his party's proposal to grant people a €170 tax cut fair?
"We proposed the cut for people who did not already enjoy a tax cut and a lump sum for those who do not pay income tax, but all they got was a miserly €35 bonus," he explains.
This time last year, the PN was busy opposing the citizenship for sale scheme, however since then the scheme has undergone multiple changes and the Opposition is no longer against the scheme.
I ask him whether the monitoring committee he sits on has met and what results is the scheme producing.
Explaining that the committee has been convened just once, in October, Busuttil says that he was last informed that 173 applications had been submitted, with around 100 coming from Russia.
However, he adds that two things concern him. "Firstly, contrary to the government's promise, the secrecy clause has not been removed because the names of who is awarded a passport through the scheme will not be distinguished from others who are naturalised."
The other matter of concern, he says, is the lack of enforcement on the requirement to reside in Malta for 12 months before being granted citizenship.
I also bring up the illegal boathouses issue. People are expecting a clear plan from a party aspiring to be in government in three years' time. So I ask Busuttil, what is his plan?
"When the election comes, we'll make our position clear. There's no doubt about it. We'll have a clear position on each issue. But we already have a clear position today. The government is wrong in installing electricity metres in illegal shacks, which is a move that is tantamount to regularising them."
But what is the PN position?
"Our position is very clear. Were I Prime Minister I wouldn't have provided them with electricity."
But if you were prime minister today would he pull them down?
"The former PN government had a plan to rehabilitate the areas, which look like a slum, and build new units which would be open to all, not to those who stole the land. But we dragged our feet, which was a mistake and if we were in government today we would implement that plan."
In a few months time the country will possibly be called to the polls to vote in the referendum on spring hunting. So far the PN has declined taking a clear position.
Will you take a position or will you sit on the fence?
"Firstly we must see whether the referendum will take place," he says adding that the government's ambiguous position and court proceedings meant that the referendum was all but secure.
He says the PN's position on hunting, allowing for a two week spring season with strict enforcement, did not please hunters and environmentalists.
"Hunters did not like it, as shown in the last election and neither did environmentalists but both are today saying that the PN's middle road would have been a better option than the current free for all, and whatever the referendum result is it will result in an extreme solution."
I press him on whether the PN will take a stand. "If the referendum happens we'll discuss it internally and decide on what stand to take," is his reply.
Asked whether he was upset with the series of attacks on the personal lives of politicians, including ministers, he says "I hope you're not implying that the attacks were made by the PN. I dissociate myself from these personal attacks, although there's no need to dissociate myself because the attacks did not emanate from the party or myself. Perhaps the question should be addressed to the person behind the attacks," he says, adding that the party does not attack people personally unless their personal life is hindering them from carrying out their public duties appropriately.
I also ask him whether he agreed with PN deputy leader Mario de Marco's assessment that the PN should maybe once again become a centre-left party.
"The PN certainly has a social conscience. That's already our policy so there's no need to change. We are pro business in wanting to create wealth and we have a social conscience in wanting to distribute it justly."
I ponder whether old and new scandals have resulted in people losing trust in the political class.
"I'm also disappointed and I'm duty bound to expose the lies of the Prime Minister, such as the one on the government's €14 million payment to Enemalta, which the Prime Minister claimed is an EU obligation. I believe politics must be based on honesty. Honesty is the best policy, I have nothing to hide and I am ready to admit past mistakes and shoulder responsibility even though I wasn't in government and we were voted out because we committed mistakes."
"My commitment is to restore trust in politics. I want people to trust politicians, that's my commitment."