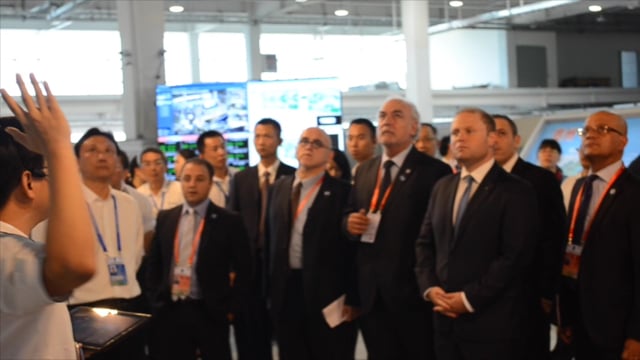 Muscat visits Guiyang industrial park
Prime Minister Joseph Muscat has told one of China's highest officials that Malta has already identified projects for Enemalta's Chinese partner to explore in Europe.
"Enemalta and Shanghai Electric have arlready earmarked projects for renewable energy in Europe," Muscat told Chinese vice-president Li Yuanchao in the run-up to a forum on industrial development.
Shanghai Electric owns a 33% stake in Malta's national utility corporation Enemalta.
Muscat today visited the newly-created industrial park in Guiyang during his visit to the People's Republic of China.
The Maltese delegation has deepened trade relations with the Chinese government with a crucial memorandum of understanding signed earlier this week.
The Guiyang Foxconn eco-industrial park is set in the idyllic countryside of pointed hills so typical of the wooded province.
The impressive stands were attended to by well-versed and English-speaking engineers, who showed Muscat the different products on show, from robotics to waste water treatment.
At Foxconn, the Prime Minister was also shown "the largest TV in the world", with his image on permanent display as he toured the factory.
Foxcon's clients include US and European companies and Japanese electronics' firms. The company manufactures Blackberry, iPad, iPhone and Kindle devices, as well as the new PlayStation 4.
Muscat was visibly impressed with the array of products and the strong emphasis on producing low carbon footprint products. He was especially impressed by a street lighting system that is solar dependent and lights up according to the traffic that approaches the lighting system.