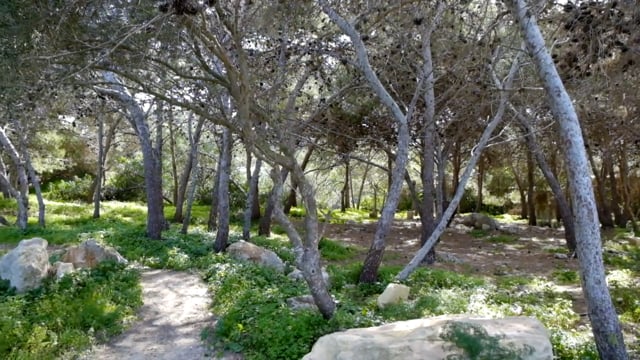 SHout says voting against spring hunting would transform Mizieb bird cemetry into a safe haven for birds
Voting to abolish spring hunting in Malta wwould allow the Maltese to transform the publicly-owned Mizieb "bird cemetery" into a living woodland for breeding birds and for the public in spring, the Spring Hunting Out (SHout) campaign said today.
Campaign spokesperson Mark Sultana explained that hunters organisation FKNK were given access to hunt in Mizieb in the run to the 1986 general election. Since then, the woodland has been transformed into a notorious illegal hunting black spot and the scene where hundreds of carcasses of illegally shot birds were found buried under rocks by hunters.
Addressing a press conference in Mizieb this morning, Sultana argued that a 'no' vote in the referendum would see the hunters' woodland be transformed into a tranquil area. SHout ambassadors also erected signs in Mizieb to "reclaim" it for birds after many years of being a killing field for the hunters.
"Miżieb woodland is publicly owned land which should be free for everyone to enjoy. Instead it is occupied by hunters in spring who shoot at all kinds of birds under the cover of these trees," Sultana said.
Hunters organisation FKNK was given access to hunt in Mizieb in the run up to the 1986 general election, and despite there being no known formal agreement, the hunters have occupied it ever since. Sultana argued that Mizieb has since been transformed into a notorious illegal hunting black spot where volunteers have found the remains of rare and protected birds hidden under rocks including Marsh Harriers and beautiful Hoopoes.
"The impact of such illegal killing in spring incurs double damage, as these birds are on their way to breed. Banning spring hunting will not only protect turtle dove and quail, but also many rare and protected birds passing over Malta, allowing them all to breed."
In what was described as "the largest wildlife crime scene in Maltese history," activists discovered the carcasses of over 200 protected birds in Miżieb in 2009. The carcasses were found hidden under rocks, stuffed in crevices and inside old barrels.
Birds found included Marsh Harriers, Honey Buzzards, European Hobbies, Kestrels, Herons, Golden Orioles, Beeaters, European Nightjars, Racing pigeons and Nightingale. An investigation was launched to identify the culprits, but as yet, the outcome has yet to be published.
In September 2010 volunteers conducted another search in the woodland and found the remains of over 80 dead birds, many freshly killed and others killed in the past. Moreover, in April 2014, six dead herons were also found. A month later, volunteers found further remains of at least 10 protected species.
"We want to have back the public land we have been deprived of. The time has come for the Maltese public to do something about it, and get to enjoy what's left of the local countryside."
"The discovery of hundreds of shot birds discarded in a woodland that is overseen by the hunters' own organisation shows that hunters are not interested in any tradition of hunting for food. It is time for us to come together and return this area from a bird cemetery to a living woodland by voting against spring hunting," SHout ambassador Fabio Spiteri said.
Spiteri also argued that the woodland should instead be a safe haven for migratory birds.