Minister dismisses 'conflict of interest' in appointment of 18-year-old as director
Economy Minister Chris Cardona denies that 18-year-old Karl Cutajar was appointed director of the new government-run security company due to his relation to minister's chief of staff and business partner Mario Azzopardi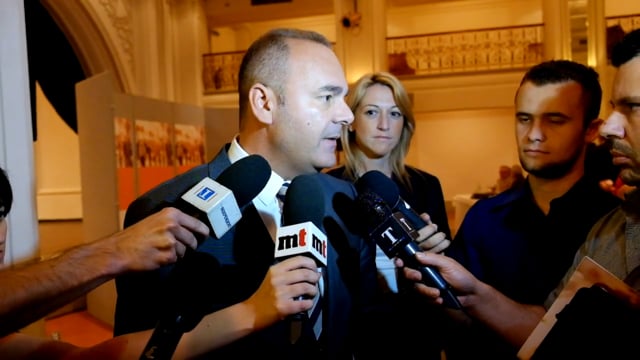 Minister dismisses 'conflict of interest' in appointment of 18-year-old as director
Economy Minister Chris Cardona has denied any fore-knowledge of the appointment of 18-year-old Karl Cutajar as director of the new government-run security company Forth Security Services Ltd.
Answering questions posed by journalists after the presentation of a white paper on social enterprises, Cardona insisted that Cutajar had been chosen by someone within Mimcol government holdings company and that Cardona had not been consulted about the choice.
He also denied that Cutajar had been given preferential treatment because he is the nephew of Cardona's Chief of Staff Mario Azzopardi.
"Given that he used to work within the company before, he was perfectly eligible for the role," Cardona said stressing that Cutajar's relation to Azzopardi, who is also a fellow shareholder with Cardona in private company SAPMAC did not present a conflict of interest.
Cardona insisted that Cutajar has every right to serve on a board that "will not be receiving any remuneration for its work."
"Cutajar will not be receiving any additional income for his job, he is only there to serve the needs of the country," he added, stressing that the new Forth Security Services would not receive any sort of financial profit for its work.
He further explained that the new company would be tasked with offering security services at places undergoing liquidation, such as the Shipbuilding.
"We know that the government has numerous assets in the company and up until a few days ago, these assets could have easily been stolen," Cardona said.
He explained that the company's budget and the number of employees it could hire couldn't yet be announced, particularly as further details on the Shipbuilding rehabilitation was to be announced soon.
He also specified that Cutajar had been given his position at Mimcol in 2014 through a call for applications, where he was also awarded a "normal" rate for an employee working within the company.
Cardona said that the didn't wish to get into the merits of Cutajar's qualifications and that he had every reason to believe that Mimcol would have properly assessed Cutajar's capacities.

Meanwhile, Opposition leader Simon Busuttil described Cutajar's appointment as "shocking but not surprising".

"We have grown used to blatantly nepotistic appointments under this government," he told MaltaToday.