Tonio Fenech fends off Swedish pensions headache
In Sweden, the national pensions agency has suspended Falcon Funds – of which Tonio Fenech is a director – over suspicions of rogue sales tactics by a former distributor, and the role of one Emil Ingmanson and his alleged interests in the pension fund
Nationalist MP Tonio Fenech has accused the Swedish pensions agency of having an agenda against the Malta-registered pension fund he is a director of, which until recently was embroiled in an investigation over rogue sales practices that could have misled clients to transfer their savings to Falcon Funds.
The investigation, which the Swedish pensions agency forwarded to police and the Swedish and Maltese financial regulators, concerns the irregular sales tactics of the Konsumentkraft call centre based in Alicante, Spain, which encouraged Swedish savers to transfer their monies from one private fund to Falcon Funds.
The big question niggling the Swedish pensions agency, is whether Konsumentkraft was doing this bidding specifically at the behest of a hired gun named Emil Ingmanson, who acted as a business introducer for the setting-up of Falcon Funds Sicav in 2013, and is now seeking a licence for a new Malta venture, Falcon Asset Management.
An occasional Malta resident who has also set up companies in Malta, Ingmanson has denied accusations that he employed Konsumentkraft to carry out such rogue sales tactics.
The Swedish pensions agency however claims the savings of some 20,000 clients transferred to Falcon Funds are over-valued, because they cannot establish the real value of some of its investments. But Tonio Fenech, one of the three directors of Falcon Funds, contests these claims, especially since the Malta Financial Services Authority just recently informed the agency that it found no problem with securities in which the pension fund is investing.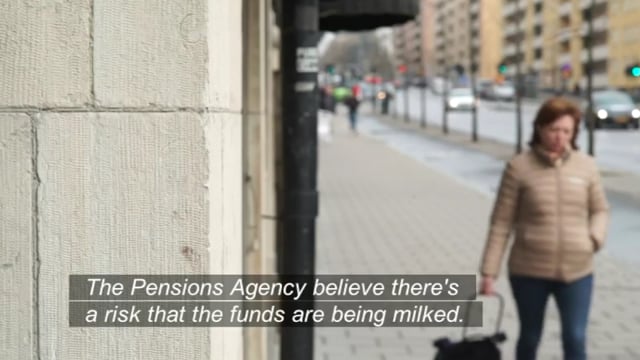 Swedish pensions debacle on TV4's Cold Facts
Misled savers
Swedish savers can choose to allocate a portion of their national retirement pension, equivalent to 2.5% of their annual salary, to any of the private pensions regulated by the pensions authority. Falcon Funds is one of them.
Falcon Funds SICAV is a Maltese fund on the Swedish pension platform, licensed by the MFSA. The fund is sold or 'distributed' to Swedish savers through a Swedish-licensed company, Stellum, which in June 2015 sub-contracted Konsumentkraft to sell its pensions.
According to Swedish TV4's programme 'Cold Facts', which investigated the way savers were encouraged to switch pensions, some 2,000 clients could have been misled into making such transfers after being called up by Konsumentkraft.
'Cold Facts' spoke to former employees of Konsumentkraft in Alicante, who said their company was paid by Falcon Funds to sell the fund to unknowing Swedish pension savers.
One former worker, Sara Oloffson, said she would call pension savers, identifying herself as calling from "Konsumentfrakt, under Financial Authority supervision regarding your premium pension."
Another former worker, Cedrik, said the clients were led to believe they could choose from a variety of funds. "We only present Falcon Funds as a 'choice' since it was the only fund that paid us for what we did. Even if they'd wanted another fund it wasn't going to happen. We couldn't do it, we just had the one fund."
The Konsumentkraft advisors would ask clients for their electronic IDs, to log onto the system using their national identity numbers – which they already had in their possession – and see what pensions they held.
"I could just empty the whole lot – transfer it all to Falcon," Sara said.
"Just by clicking, doing it as fast as possible after logging in. Then hanging up," Cedrik said.
Sara said that towards the autumn of 2015 she managed to move €700,000 in six weeks to Falcon Funds. "Although sales were going well, management wanted even more capital moving into Falcon Funds. So we were told to say that we're calling on behalf of the Swedish Pensions Authority. Many of us questioned this."
This enabled the Konsumentkraft advisors to request clients' PIN numbers to access their pension accounts. "They'd say: 'yes, go ahead, I don't know what anyway'. So we just cleared it all out and placed it in Falcon."
Tonio Fenech and directors Joseph Xuereb and Ian Zammit, have contested the allegations.
"From our information Konsumentfraft was formed in June 2015, had an agreement with Stellum in July 2015, which was terminated on 17 September because Stellum was not content with how the company was operating," they said.
Swedish pensions agency's suspicions
The Swedish pensions agency says it cannot identify – beyond reasonable doubt – whether Emil Ingmanson, who was an initiator of Falcon Funds and now is seeking to take control of the fund's investment decisions, 'commissioned' such sales practices thanks to his acquaintance with Konsumentkraft managers.
Since February 2016, the Swedish pensions agency has stopped any new investments being placed in Falcon Funds, and since October 2015 has been asking the Malta Financial Services Authority to investigate Falcon Funds.
Specifically, it asked the MFSA to investigate some securities that Falcon Funds was reinvesting its clients' monies in: two particularly, Solid Venture P2P ETI and Boardwalk Real Estate ETI bear similar names to companies that Emil Ingmanson set up in Malta and the Isle of Man.
But Tonio Fenech says that Ingmanson has been the subject of unfair press in Sweden, and that the Swede is submitting himself to due diligence procedures by the MFSA in order to obtain a licence for his new venture, Falcon Asset Management.
"The claims made of the links with Ingmanson are to the least speculative. He is known to the board as a person of repute, was involved in the setting up of the fund due to his Swedish experience and introduced us to Stellum.
"He has no involvement in the selling or investments decisions of the fund. We have asked the Swedish pensions agency to advise us of any issues we may need to be aware of Ingmanson and to date it has never forwarded with any information," Falcon Funds' directors said.
Fenech has added that the Swedish pensions agency has "an agenda" against the fund because it is Malta-run. "They can't stomach this. I met them myself and asked them why they had not lifted our suspension when we had severed our relationship with Konsumentkraft. They lifted the suspension of four others funds, but not ours," Fenech protested.
Falcon Funds amassed a total capital of €279 million by 2015, after having merged with another fund, Optimus, in March 2015.
"Contrary to the impressions that could have been given in the program and the newspaper, the growth of funds in Falcon Funds is not attributed to Konsumentkraft but to the merger, to which clearly Konsumentkraft had no association as it was not even incorporated," Falcon Funds said.
Falcon Funds insist that the disputed transfers orchestrated by Konsumentkraft are of less than 500 of their 25,000 clients, possibly €5 million or 2% of the €250 million fund.
"We cannot know the amount precisely because pensioners' names are kept by the Swedish pensions agency, and the fund only receives daily flows on anonymised monies. This proves Falcon Funds had no way of knowing the amount of monies that came from the activity carried out by Konsumentkraft but only the Swedish pensions agency had this information, which it never shared with us and thus possibly allowing us to assist it in stopping this concerning activity."
Falcon Asset Management
But Ingmanson, emails released anonymously by a banking source, is positioning himself for a greater role on Falcon Funds.
Ingmanson is not formally part of the Falcon Funds Sicav, but he was originally an initiator of the fund by acting as a business introducer in 2013.
The decisions as to which shares and stocks Falcon Funds invests savers' monies in, are taken by another company, Temple Asset Management in Floriana. Indeed, Tonio Fenech has appeared on TV4's Cold Facts together with Temple's director John Farrell, who until recently was also a director on Falcon Asset Management.
Falcon Asset Management also has a letterbox address at Temple Asset Management's offices.
As emails from Temple Asset Management show, Falcon Asset Management – of which Ingmanson is its ultimate beneficial owner – is planning to become the manager for Falcon Funds' underlying funds.
The Swedish pensions agency in fact claims Ingmanson has a conflict of interest by having at one point marketed the fund, and by having a "clear involvement in the fund management".
Company documents also show that in February 2016, Ingmanson transferred his one share in Falcon Asset Management, to Falcon Asset Holdings; and his sole share in Falcon Asset Holdings was then transferred to London firm Comino Holding LLP, which is in turn owned by two companies in the Isle of Man – Falcon Gozo and Falcon Comino.
But the ultimate beneficial owners of these two companies are hidden behind nominees.
'Agenda against Malta'
While the Swedish pensions agency claims it cannot assess the true value of some of Falcon Funds' holdings, the MFSA responded to the agency on 19 May, saying that it found that the securities Solid Venture P2P, WSV Mittelstand, and Boardwalk Real Estate, were "eligible for investment" – that is, nothing suspicious.
As mentioned before, part of the suspicion concerning these securities are that they bear similar names to Ingmanson's Maltese company Solid Venture Capital, and an associated company Boardwalk Limited that is registered in the Isle of Man.
Falcon Funds have told MaltaToday that the Swedish pensions agency has suspended it form taking new monies "for reasons never properly explained".
Tonio Fenech told MaltaToday that in a meeting with the agency, they claimed that Falcon Funds was not suspended due to the Konsumentkraft issue.
"They acknowledged then that as Falcon Funds we were not involved, except that we were one of the funds that benefited from the monies transferred. There were other funds which were also suspended, however we were kept suspended until the MFSA cleared the issue of the eligibility of our investments.
"When the MFSA did send formally it clear opinion on our investments, the pensions agency kept us in suspension without giving us any formal reason."
Fenech also says he told the pensions agency that it was unacceptable to allow unlicensed call centres like Konsumentkraft to sell pension funds. "[Konsumentkraft] is a marketing company which, I believe, seeks to transfer a good deal of savings to one particular fund so that it can solicit a management fee for its services, against the threat that it would tell the clients to transfer the money back to another fund. I told the agency to take legal action against Konsumentkraft. On our part, Falcon Funds' clients have the power to transfer back any of their savings to any other private fund."
Fenech said he believes the only issue the Swedish pensions agency has is that the fund is in Malta.
"Malta is an EU country. The agency cannot deny access to the Swedish pension market as this is goes against the EU principles of freedom of establishment and cannot keep the fund suspended in breach of the statute that governs our relationship with them. For this reason, the fund three weeks ago put the case in front of the Swedish Parliamentary Ombudsman who has accepted to review the case."