[WATCH] Pharma company to lay off 200: 'No one will spend a day jobless' – ministers pledge
Evarist Bartolo expresses disdain at Teva Pharmaceutical Industries' 'insensitive way' of how it broke news to workers: 'Workers should not be treated as simply factors of production but as human beings with families'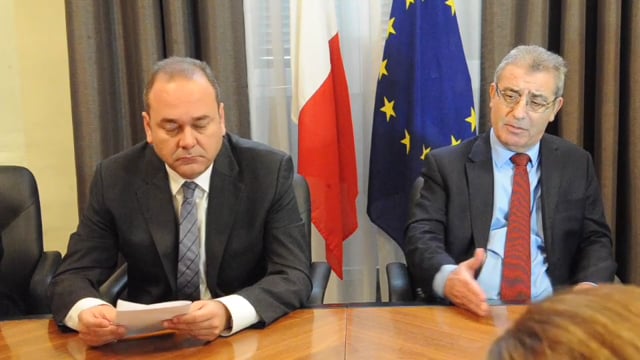 Government pledges work for 200 workers to be laid off by pharma company
Teva Pharmaceutical Industries, who earlier this year acquired Actavis Generics, will be laying off over 200 workers before the end of 2017, Economy Minister Chris Cardona and Employment Minister Evarist Bartolo announced.
In a press conference convened early this morning, the two ministers revealed that the company informed the government of its decision to start "consolidating productions" around its 30 plants in Europe and would also lay off workers in Malta.
Teva employs 540 workers at its Bulebel plant and 180 workers in Hal Far. As a result of its European restructuring, Teva will be laying off 175 workers and a further 35 workers from the two plants respectively. The job lay offs will affect operators, lab analysts, IT experts and human resources among others.
The workers were informed of the company's decision today.
Teva, who was an Actavis competitor in the production of generics, acquired Actavis in during the summer months.
"The acquisition of Actavis Generics comes at a time when Teva is stronger than ever—in both our generics and specialty businesses," Erez Vigodman, President and CEO, Teva had announced.
"Through our acquisition of Actavis Generics, we are creating a new Teva with a strong foundation, significantly enhanced financial profile and more diversified revenue sources and profit streams backed by strong product development engines in both generics and specialty. This is a platform that is expected to generate multi-year top-line and bottom-line growth as well as significant cash flow."
But now, as part of a global restructuring – with the main changes affecting European plants – the company approved a decision to lay off workers to tackle
operational overlaps.
Flanked by Malta Enterprise chairman Mario Galea and Jobsplus executive chairperson Clyde Caruana, Cardona and Bartolo said that a taskforce was immediately set up to identify the skills of the workers set to be made redundant and the job opportunities in the market.
The minister for employment had hard words for the company, whom he accused of insensitiveness and with lack of regard towards the workers.
"It is terrible news to announce just before the Christmas holidays and we understand the workers' worry. We are giving our assurances that all workers will be offered alternative employment. Whilst Teva's decision will be implemented at the end of next year, we will not wait until then to find them an alternative job," Bartolo said.
The minister said the company "could have found a different way and method of announcing its decision".
"Workers should not be treated as factors of production but as persons with their own families."
The two ministers said that a number of alternative companies have already been identified.
Cardona said that none of the workers "will spend a day jobless".
The announcement of the layoffs came just a day after De La Rue announced it would be retaining its currency printing facilities.
Teva: decision informed by 'comprehensive review'
In a press statement, Teva confirmed that it will cease operations at its Hal Far plant. "The proposal to exit this site from the global network is informed by a comprehensive review designed to optimize network efficiency, eliminate excess capacity to reduce costs, and better align production with market demand," the company said.
The company said that redundancies will affect both union and non-union positions, as manufacturing is estimated to cease at the end of the first quarter of 2018.
"Furthermore, the Bulebe facility is experiencing decreased volumes and will consequently restructure its operations accordingly. The outcome of the restructuring is expected to impact approximately 35 jobs over the first half of 2017. All other Teva functional activities, including Bulebel manufacturing operations, will continue in Malta.
"We have hard-working and highly skilled people at our sites and these recommendations do not reflect on their high-level of performance. We are committed to being a responsible employer and will make decisions in accordance with all local laws and consultation processes. We will work with those impacted to make this challenging period of transition as smooth as possible. Outplacement services and severance benefits will be offered to all employees."
AD: Globalisation at its worst
Expressing solidarity with the workers, Alternattiva Demokratika spokesperson Ralph Cassar said: "The layoffs by Actavis's new owners Teva is proof of the damaging effects of a globalisation based on greed. It is yet another example which shows the urgent need for EU governments, the EU Parliament and national parliaments to come together and collectively regulate the runaway neoliberal system in which huge short term profits and shareholder value come before social responsibility and the just distribution of wealth."
"We are not talking of a company which is facing difficulties. We are not talking of a company which is making losses. Actavis consistently
makes huge profits. What we are seeing here is a game of Russian roulette on the stock markets at the expense of the livelihood of workers. Teva's consolidation' is just another excuse to make the super rich richer. It is high time that governments and the Socialist-Popular-Liberal grand coalition in the European Parliament stop blocking EU-wide measures such as the Tobin Tax, and other measures which put the brakes on corporate greed at the expense of society."